June 2023

Summer is Finally Here! Time for Soleil Rouge!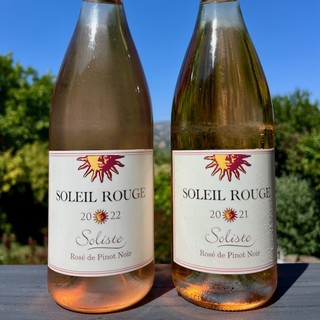 We know that spring has finally arrived when we bottle Soleil Rouge. Spring is all about renewal and shedding the darkness of winter, it is a joyous season, full of promises. It is time to fill our cellars with wonderful Rosé from Palette (Chateau Simone), Bandol, Tavel, Corsica, and Marsannay in Burgundy. Rosé celebrates the arrival of summer: The brilliant sun-ripened tomatoes, vegetables, fruits, and fragrant herbs that will be part of our many summer feasts with friends at our table.
After a long, wet (finally!) winter and unusually cool spring, we are ready for summer and proud to release our refreshing Soleil Rouge Rosé plus two vintages of L'Age D'Or Chardonnay for your Summer celebrations:

Rosé Returns from Exile
How did treasures like Chablis or Rosé become slang for cheap jug wine? We call it the California Curse, a modern tragedy. Our story begins with Chablis, the incomparable Grand Cru White Burgundy epitomized by Raveneau, Fevre, and Savary. That's a nice name, how about putting some undrinkable "Chardonnay juice" in a green jug with a twist cap, and voila! Mission accomplished, Chablis is now mouthwash. A more tragic scene follows for Chablis' cousin the great Rosé wines of Provence, Tavel, Anjou, and Marsannay in Burgundy, made famous by Domaine Tempier, Ott, et al. Our hero is upstaged by the arrival of the "California blush wine." Wineries used their spoiled grapes for Rosé and left sweetness in the wine, hoping to cover the rotten flavors. NO Thank You!! Adding insult to injury, our story concludes when a large producer introduces "sweetened" (yeah, right) "Pink Chablis." For some wines, it is never time…
Fortunately, the reputation of these amazing wines has been rescued by Monsieur Kermit Lynch in Berkeley who had the vision and tenacity to bring us Domaine Tempier and Raveneau. Merci Monsieur Lynch et a votre sante.
Unfortunately, since our first vintage of Soleil Rouge over a decade ago, Rosé has become – dare we say – popular, indeed, trendy. Sacré Bleu! But like so many things that become fashionable, the market responds and we are now drowning in a glut of insipid pink wines with all the character of colored water. There are two methods to make Rosé – the traditional method of harvesting grapes destined for the cuvée, crushing in whole cluster then allowing a few hours of skin contact for color and flavors. The other method is Saignée (to bleed, also called free-run juice), to take some of the juice from the tank intended for a traditional wine. At Soliste, Soleil Rouge is not an afterthought, we use the finest Pinot Noir clusters to make our Rosé. Not because it is the economical way, but because it is the right way to make an exceptional Rosé which is a wine, crafted from 100% Pinot Noir, and not a flimsy beverage. Like the great Rosé from Domaine Tempier, it will age beautifully. If you can resist the temptation, enjoy them towards the end of summer – or if you are exceptionally patient, keep a few bottles in your cellar for a year or two, or more – we have a few bottles of the delicious 2021 vintage available for you to enjoy right away.
---

To celebrate the arrival of summer, we created this pairing of two outstanding vintages of Soleil Rouge so you can appreciate the benefit of the year of aging and keep your summer cellar well stocked. Also a double vintage release of our 2015 and 2016 single vineyard Chardonnays which are the perfect pairing for the upcoming festive summer season. À votre santé!
The Soliste Summer Case of Soleil Rouge Rosé de Pinot Noir

6 bottles each of 2022 and 2021 Soleil Rouge - enjoy six today, and savor six later in the summer

$432 $384

$36

(and Claude has an opinion about New World Chardonnay...)

$50 $29

The code "WholesaleWhite" shows your price
Thinking about grilling meats? In the mood for Red? Please see the Pinot Noir section of our online cellar.
Since our restaurant partners are beginning their return, with respect for their wine lists we will no longer list wholesale prices on our website. However, we will continue to offer select wines at our special pricing for as long as we can. We will continue to honor the special pricing reserved for our loyal customers on request. Please contact Don to receive restaurant-direct wholesale pricing and availability.
Thanks to your overwhelming support, we continue to sell out many of the wines we have offered you. We remain eternally grateful for your support, heartfelt words of encouragement, and especially for forwarding our newsletter to your friends, whom we welcome into our Soliste family.
For orders of six bottles or more of any of our wines, shipping will be complimentary. In the summer months, we are especially mindful of shipping weather and will protect your wines from our cellar to yours. In California, we use overnight or refrigerated delivery. To FL, IL, TX, MA, PA, NH, NJ, NY, DC we offer an upgrade option to FedEx Cold Chain refrigerated/overnight service so you can enjoy Soliste wines all summer long. If you reside in a neighboring state we can deliver to a local FedEx Office as an option. Please visit store.soliste.com/wines to order, or contact don@soliste.com / 707-955-3005 for assistance. We deeply appreciate your business.
À Votre Santé,