May 2022

Spring is in the air! Time for Soleil Rouge!

Our first wine (and harvest) in two years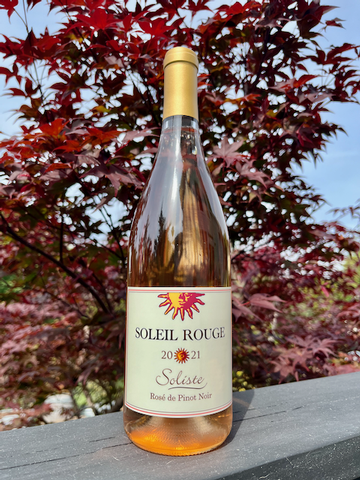 We know that spring has finally arrived when we bottle Soleil Rouge, and most importantly it is with great joy that we release our first (and only) wine harvested since the onset of the pandemic. Spring is all about renewal and shedding the darkness of winter, it is a joyous season, full of promises. It is time to fill our cellars with wonderful Rosé from Palette (Chateau Simone), Bandol, Tavel, Corsica, and Marsannay in Burgundy. Rosé celebrates the arrival of summer: The brilliant sun-ripened tomatoes, vegetables, fruits, and fragrant herbs that will be part of our many summer feasts with friends at our table.
To celebrate Spring, we are releasing our refreshing Soleil Rouge Rosé, two compelling whites, plus an exceptional Pinot Noir from deep in our library for your Summer celebrations:

Rosé Returns from Exile
How did treasures like Chablis or Rosé become slang for cheap jug wine? We call it the California Curse, a modern tragedy. Our story begins with Chablis, the incomparable Grand Cru White Burgundy epitomized by Raveneau, Fevre, and Savary. That's a nice name, how about putting some undrinkable "Chardonnay juice" in a green jug with a twist cap, and voila! Mission accomplished, Chablis is now mouthwash. A more tragic scene follows for Chablis' cousin the great Rosé wines of Provence, Tavel, Anjou, and Marsannay in Burgundy, made famous by Domaine Tempier, Ott, et al. Our hero is upstaged by the arrival of the "California blush wine." Wineries used their spoiled grapes for Rosé and left sweetness in the wine, hoping to cover the rotten flavors. NO Thank You!! Adding insult to injury, our story concludes when a large producer introduces "sweetened" (yeah, right) "Pink Chablis." For some wines, it is never time…
Fortunately, the reputation of these amazing wines has been rescued by Monsieur Kermit Lynch in Berkeley who had the vision and tenacity to bring us Domaine Tempier and Raveneau. Merci Monsieur Lynch et a votre sante.
Unfortunately, since our first vintage of Soleil Rouge over a decade ago, Rosé has become – dare we say – popular, indeed, trendy. Sacré Bleu! But like so many things that become fashionable, the market responds and we are now drowning in a glut of insipid pink wines with all the character of colored water. There are two methods to make Rosé – the traditional method of harvesting grapes destined for the cuvée, crushing in whole cluster then allowing a few hours of skin contact for color and flavors. The other method is Saignée (to bleed, also called free run juice), to take some of the juice from the tank intended for a traditional wine. At Soliste, Soleil Rouge is not an afterthought, we use the finest Pinot Noir clusters to make our Rosé. Not because it is the economical way, but because it is the right way to make an exceptional Rosé which is a wine, crafted from 100% Pinot Noir, and not a flimsy beverage. Like the great Rosé from Domaine Tempier, it will age beautifully. If you can resist the temptation, enjoy them towards the end of summer – or if you are exceptionally patient, keep a few bottles in your cellar for a year or two, or more. We enjoyed a bottle together from our 2014 vintage with Thai food the other day.
2021 Soleil Rouge Rosé de Pinot Noir, Sonoma Coast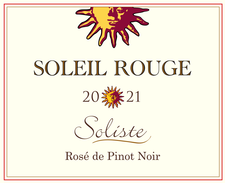 We always look forward to this time of year to celebrate the arrival of Soleil Rouge – our crisp, vivacious refreshing Rosé with complexity and balanced acidity that, we will promise you, will not last long in our cellars. The only thing better than a chilled glass of Rosé is another glass of Rosé, followed by a glass of Soliste Pinot Noir. Share the joy.

Soleil Rouge is "Le Vin des Amis" – fresh, lively, served chilled to warm your heart and fill you with joy and conviviality. Enjoy with charcuterie, oysters, or our favorite, fire pit paella. Only 70 cases were made this year (have we not learned anything yet?) – they will be gone far too soon!
Tasting Notes
This is the Domaine Tempier of Pinot Noir Rosé and our very best Rosé yet.

Le Regard / The Look
Brilliant soft pink with dancing copper minerality specs, palest peach skin color reminiscent of the Krug Champagne rosé, showing great control on the skin press and the cold soak.

Le Nez / The Nose
Intoxicating aromas of mineral spiked red berries, flint, blood orange, peach, crushed stones, and a hint of cotton candy. As the wine opens up, the bouquet becomes more exotic, with aromas of cardamom, honeysuckle, wild strawberry rhubarb, vividly floral.
Degustation / The Taste
The Soliste pinot noir heritage is unmistakable. The front palate is superb, densely packed and yet lively; Acidulated red currant, fraises des bois/ rhubarb compote (wild strawberries), pomegranate essence, cranberry, stone fruit pits, perfectly interlaced with exotic white flowers and herbal tones. As the wine opens up, the middle palate is exquisitely floral, fine-boned, and creamy, with layers of macerated rose petals, dried raspberries, tart red cherries, Mediterranean dried herbs, and blood orange. The unctuous and fine tannin texture creates a wine of absolute silkiness with tangerine and melon pulp, giving Soleil rouge a sensual mouthfeel. The finish of this Rosé is the embodiment of verve, linear, focused, with a long lingering dried sappy red fruit backbone creating an outstanding crescendo…Soliste.
| | |
| --- | --- |
| 12.9% alc. 71 cases produced | Limited $36 |

2014 West of East, our only vintage
When Cultures Combine – The Yin and Yang of Soliste
It must be something about white wines, first with L'Age D'Or Chardonnay and now with our new West of East and East of West wines, he's given me a turn at the newsletter. Buckle up.
While our partnership has evolved into familial relationship and I love Claude like a brother, we are very different people. I, born of a Japanese mother, was brought up to be polite, deferential, accommodating. I'm the perfect foil to Claude, who rallies under the battle-cry, "If it is worth doing, it is worth over-doing!" (along with, "If there is no problem, create one."). I like to know what the rules are and then do my best to follow them. Claude has never met a rule he didn't feel was badly in need of being broken.
When we began to create Arpège, our late-harvest Semillon from the masters of complication, we experimented with a few barrels of normally vinified Semillon wine before botrytis began its magical journey for the grapes still on the vine. These barrels were happily aging in the cellar (alongside various other of Claude's experiments) when I pointed out we should consider bottling something. "I know!" Claude exclaims with his index finger proudly pointing skyward. "Let's make a blend of Semillion with some of our Sauvignon Blanc from Lune et Soleil, that should be perfect for Japanese food," he announced. A simple thought (sound familiar?).
"Let's make two different blends, and let's age them differently," he explained. Because one wine done one way was clearly not enough complexity for him that afternoon. Someone else (me) manages the SKU's, the labels, the inventory, so why not?
So that's what we did. We bottled the first Semi-Sauvi blend in 2015, but not knowing what we wanted to call this new wine we put into great looking bottles and set them aside in the cellar. In 2016, once again I pointed out that one of his experiments was happily aging and it was time to bottle. Again, not knowing what we wanted to call our next new wine, we put into the same great looking bottles and set them aside in the cellar.
Much like our adventure with Chardonnay, our unnamed wine took a while to come around in bottle. Our first tastings were filled with Claude's glare, wondering why I insisted we bottle this wine. Indeed, why I insisted to bottle his idea.
Patience (my virtue) was rewarded. One hot afternoon enjoying sushi at our favorite Japanese restaurant (shhh…it's a secret…but it's in Rohnert Park and is perhaps the best in the US), we opened a bottle or two and they were the perfect pairing for delicate, elegant sushi and sashimi; Floral and mineral, with cherry blossom nose, creamy texture, slightly starchy like rice, crisp citrus, and saline finish.
Claude (never missing an opportunity to give me advice) pointed out that beer is too heavy with elegant sushi. "Why fill up on beer when you can have more sushi?!?," he exclaimed. "What about sake?," I innocently asked. "Well, that would be rice on rice – too much! No more questions – more wine!" That is why we prefer to pair sushi with a great Rosé, Riesling, or well, we just had to create one.
This is also an example of Soliste "breaking the rules" (and making Claude happy); Typically, wines are crafted and then paired with the appropriate food to complement them. This time, we did the opposite. We purposely created these wines to pair with and compliment Asian food and especially Japanese cuisine. You see, we eat a lot of sushi together…and we need some wine when Claude forgets to bring some Albert Boxler, Ostertag, or Egon Müller, from his endless cellar.
As I've told many of you when asked about the French names we call our wines at Soliste – L'Espérance, Forêt, L'Ambroisie, St Andelain, and so on – I say, "Claude, our new wine should be named something a bit Asian perhaps to honor my family." To which he has usually responds (with Index finger pointed skyward), "I know, we will call it 'Les Griottes'." But this (one) time, Claude said to me, "Don, you should name this wine." I still get choked up remembering this.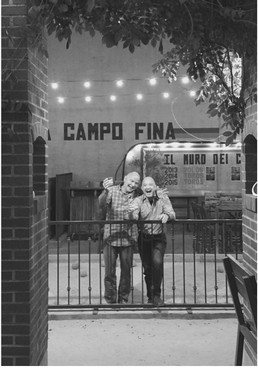 It took months to think of what to call this very unique wine. I reflected on my mother, her family, my good fortune to begin this journey with Claude and how he's shaped my life since we met. For Soliste, if Claude brings a Western attitude, my contribution is from the East. While we are the Yin and Yang of backgrounds and cultures, together the combination has enabled us to take Soliste from a simple idea into a family of wines we both are intensely proud of.
"West of East," I announced. We'll call our Semillon Sauvignon Blanc blend "West of East" since it represents what we both bring to this wine and to Soliste. "Done," Claude said, "Let's design a label." My mother's stamp (chop) would be included to always remind me of the Kusayangi family. We also called it "Omakase" as that's the only way to order at the Sushi Bar – "Chef's Choice." And we include the in-yō symbol – "Yin and Yang" – a fitting icon for how seemingly opposite forces may actually be complementary and interdependent. Perhaps creating something wonderful from chaos.
A simple thought, so it seemed. When I went to order our labels, something didn't feel right. We bottled the 2014 vintage in 2015, then the vintage we bottled in 2016 must have been the 2015. It's logical. I mentioned this to Claude, who reminded me, "Don, we didn't make Sauvignon Blanc in 2015, why are you so messed up?" Ah, who would have remembered that we made two blends aged differently, except for the guy who thinks, "Where there is no problem, create one." He did it again.
"East of West," I announced. We'll call our (other) Semillon Sauvignon Blanc blend "East of West." Problem solved. East of West and West of East have only been made in the 2014 vintage. Can you blame me?
I'll turn it back over to Claude to write tasting notes in the way only he can do.
"Thanks Don, you are so complicated." Here you go: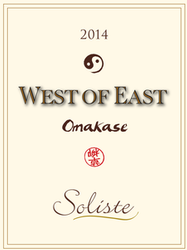 West of East. Meditation.
West of East reveals exotic aromas of white flowers, tahini, salted butter, peach, and apricot pits. As the wine opens, a soft perfume of magnolia blossoms, ginger, white peach, and shitake mushrooms with white pepper envelop your senses. This is a very profound wine, to hold and reflect; Honey lemon curd, layered with white peaches, lychees, jasmine blossoms, and maitake mushroom, creates a wine of great elegance and width. The middle palette is all fluidity and mineral, like a mountain river running softly over granite boulders, with a buttery texture of Fuji apple compote and starchy chestnuts. Beautiful harmony on the finish, with focused citrus acidity to lift the wine into a spiritual journey.
2014 West of East - 50% Sauvignon Blanc, Lake County / 50% Semillon, Sonoma Coast

12.7% alc. 148 cases produced

Available 750ml $28


Les Cailles 2012 Reserve Chardonnay, Ukraine* River Valley
*(FKA Russian)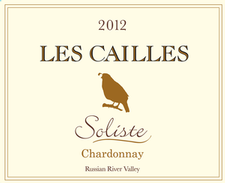 Vineyard
Les Cailles comes from a vineyard just north of Sebastopol adjacent to the Laguna de Santa Rosa, the largest tributary of the Russian River. Originally planted in 1971, these are among the oldest Chardonnay vines in the Russian River Valley. The vineyard is immaculately and sustainably managed.
Vintage Notes
The 2012 growing season climatic conditions were ideal in every sense of the word. Despite such a stellar vintage we managed the yield aggressively. We harvested at first light and thoroughly sorted in the winery. Following a gentle 100% whole cluster pressing, the juice was settled for 24 hours before transferring to concrete eggs for fermentation sur lie. Malolactic fermentation was arrested to preserve brightness and focus. Additional barrel aging in 600L Taransaud barrels for 11 months preserved acidity and focus.
The Inspiration and the Challenge
Having white Burgundies as benchmarks, especially the wines of Raveneau, Jobard, and Coche, we were never too anxious to even attempt to craft Chardonnay in the new world as we have always felt that the wines were over the top with buttery popcorn mouth feel, way too much oak, high alcohol and clunky to say the least -- they seem more like a martini than a Chardonnay. Our success with Sauvignon Blanc and especially with ST Andelain, convinced us to begin a three-year commitment with a fabulous, well-established vineyard in the Russian River Valley. Our Commitment to experiment with different vinification as well as aging for 23 months total results in a Chardonnay of great elegance, length, and verve.
Les Cailles is our limited production Chardonnay with only 77 cases made. Until now, the 2012 vintage was only sold to select restaurants in New York and Washington DC.
Les Cailles 2012, Jobard Meursault in Sonoma

Tasting Notes, revisited 10 years later

Le Regard / The Look
Crystalline purity of a Citrine gemstone, with golden depth of straw, highlighted by mineral suspension due to whole cluster press.

Le Nez / The Nose
Sumptuous aromas of Mirabelle plums, flint, alpine flowers, wet granite, and crystallized orchard fruit. As the wine shades its chill and opens up, the nose burst with elegant yellow floral bouquet, lemon curd, apple confit, acacia, and elderflower, spiked with white pepper. Les Cailles's nose delivers an outstanding intensity, verve, and detail, very Meursault "en la Barre".

Degustation / The Taste
The sensual and round front palate is very focused and creamy; Acidulated baked tart apple, quince, white peach, lemon curd, white pepper, and fennel tops, perfectly interlaced with white Alpine flowers and salty caramels. As the wine opens up, the middle palate is exquisitely floral, fine-boned, and textural, with creamy layers of marzipan, toasted sourdough bread, and stone fruits. The unctuous and fine tannin texture is a clear result of extended aging in the large 600L. Tarransaud barrel, giving Les Cailles unparalleled round mouthfeel. The wine transitions seamlessly to a perfectly balanced long finish accented by a Kaffir lime/ grapefruit peel, peppery dill, and flinty acidity infused with sea brine, creating an impressively elegant wine showing great poise, brilliance, complexity, and length. Les Cailles Reserve…Meursault West…Soliste.
| | |
| --- | --- |
| 12.9% alc. 77 cases produced | Available $50 $29 |

Our May Release
To celebrate Spring, we are releasing three compelling white wines plus an exceptional Pinot Noir from deep in our library for your Summer celebrations. Since our restaurant partners are beginning their return, with respect for their wine lists we will no longer list wholesale prices on our website. However, we will continue to offer select wines at our special pricing for as long as we can. In addition to this new exclusive release and offer, we will continue to honor the special pricing reserved for our loyal customers on request. Please contact Don to receive restaurant-direct wholesale pricing and availability.
Thanks to your overwhelming support, we continue to sell out many of the wines we have offered you. We remain eternally grateful for your support, heartfelt words of encouragement, and especially for forwarding our newsletter to your friends, whom we welcome into our Soliste family.
For orders of six bottles or more of any of our wines, shipping will be complimentary. Please visit store.soliste.com/wines to order, or contact don@soliste.com / 707-955-3005 for assistance. In the summer months, we are especially mindful of shipping weather and will protect your wines from our cellar to yours. In California, we use overnight or refrigerated delivery. To FL, IL, TX, MA, PA, NH, NJ, NY, DC we will upgrade to FedEx Cold Chain refrigerated/overnight service so you can enjoy Soliste wines all summer long. If you reside in a neighboring state we can deliver to a local FedEx Office as an option. We deeply appreciate your business as this is a great help to Soliste as we continue to navigate the months ahead without significant restaurant orders.
À Votre Santé,