May 2020
SPRINGTIME -- RENAISSANCE
Sunshine in a Bottle & Hope
At Soliste, "in normal times" we so look forward to the month of May and Springtime. Sunshine is a great antidote and it improves our psychological well-being and we dearly need it during this emotional rollercoaster. Do we stay in longer? Do we partially resume? Even our dogs are confused but are becoming very well adjusted to our 24/7 company, frequent daytime walks, and undoubtedly expect it to continue.
May is a food celebration month, transitioning from winter earthy root vegetables to a bounty of fresh, above ground vegetables; ripe fruits, berries, and fragrant herbs, it smells like a warm day in Provence. There is no better time to open a delicious, crisp bottle of chilled Rosé. Soleil Rouge 2019, crafted of 100% Pinot Noir is the embodiment of those deliciously pure and lean Rosé from Provence such as Domaine Tempier, great by itself, or paired with charcuterie, paella, grilled shell-on prawns, roasted salmon on the skin, vine ripe tomato and burrata…and pizza from Don's wood-burning oven.
This May release is our third since the onset of the pandemic. Months ago we certainly did not expect to be releasing Soleil Rouge only online, as we normally look forward to visiting restaurant chef-owners and sommeliers so they can showcase the wines and talk about the new vintage. But this is the new normal as it is called. We are eternally grateful for your support, heartfelt words of encouragement and especially for forwarding our newsletters to your friends as this means expanding our Soliste Family. The best compliment for our wine is when someone has recommended them to their friends and family and we thank you. Merci Encore.
Just like bears coming out of hibernation from their dens, we too are starting our journey back from our shelters into the sunlight of Spring. Elders, Druids, Shamans, for centuries, with respect for the earth's cycle, have worshiped the power of the sun after a dark winter, where life comes back to bloom and grow anew, a true Renaissance!!! HOPE is an important emotional catalyst, giving us energy, resilience, strength, and aspiration to be better to us and especially others. HOPE is for your family, your friends, for this country, for our global community, for all the professionals and volunteers risking their lives for ours. HOPE's silver lining will be a rebirth of collectivism and empathy. This is how we come out of the darkness into the sunlight, TOGETHER.
Our emotions are wide-ranging and paradoxical. We have immense gratitude from your unwavering support for Soliste which keeps us afloat since most of our sales came from restaurants. But we are also saddened to hear from so many of my restaurant friends that are defeated and have decided to close permanently. I was especially moved by Gabrielle Hamilton's article in the NY Times, "My Restaurant Was My Life For 20 Years," showing how fragile restaurants are, even in normal times. Some have creatively adjusted such as Fat Rice in Chicago, to be a market/delicious prepared dinner to go. Republique and M. Georgina in LA have also adapted to new concepts for survival. Don tells me that Single Thread's daily take out family meal is amazing, and for this once, I am envious. It is also bittersweet as we live to dine together…
On this note, we are supporting The United Sommeliers Foundation Fine Wine Auction with a donation of a vertical of Soliste SOLITAIRE MonoClone® Pinot Noir Magnums 2012-2013-2104. The foundation was created during the COVID-19 crisis and has established a fund to provide financial assistance to professional sommeliers finding themselves in vulnerable and uncertain positions.
Wine, in our opinion, is the ultimate connector of people. Open a bottle (or more in our case) with complete strangers, and soon, just as the wine opens up in the glass, so do people. The dinner table is not a competitive arena, and "breaking bread" is simply not only an expression, it is the meaning of who we are – social beings. The dinner table is where we share our joys, pains, laughter, travels, celebrations, weddings, deaths, births, and intimate life stories around that table with that great bottle of wine. The dinner table is the celebration of life and the reason we have lasting memories, and this is why we make Soliste.
So again, and because of the great response and support that we have received from you, we are reaching in our cellar and offering 3 remarkable wines at wholesale restaurant prices, since you cannot enjoy them at your favorite restaurants, we hope that this will bring you joy. Your generosity and support have made and continues to make a meaningful impact into the life of Soliste Winery. Please visit our website for my tasting notes.
Soleil Rouge Rosé de Pinot Noir

2019. Soleil Rouge is a stunning Rosé, crafted 100% from Pinot Noir grapes. It is Sunshine in a bottle, and don't we need a lot of that right now. This particular vintage is the best expression that we have produced (and don't miss reading Claude's rant about "Pink Chablis").




$22

Les Cailles Chardonnay

2013. We sold out of 2014, and with 2015 running low, we are opening the last restaurant allocation for you.




$28

Renaissance MonoClone Pinot Noir

2013. Our single vineyard, single clone and single French cooperage wine from the family vineyard. An exceptional vintage, drinking in its prime and ready to enjoy today.




$35
We want to share that Andy Myers, Wine Director for José Andrés' ThinkFoodGroup, wrote in Departures about our 2015 Narcisse Pinot Noir "Claude Koeberle makes killer new world Pinot. I hate saying wines from America are Burgundian, but he comes damn close to it with wines of subtlety and power," and about 2017 Lune et Soleil Sauvignon Blanc, "Everyone in California seems to go out of their way to make Sauvignon Blanc taste like anything except Sauvignon Blanc. Claude gets that the grassy, grapefruit notes of Sauvignon Blanc are actually delicious and he coaxes the best out of the grape in the northern climate of Lake County. Deeeeee-licious."
Both are still available. For orders of six bottles or more of any of our wines, shipping will be complementary. Please visit store.soliste.com/wines to order, or contact don@soliste.com / 707-955-3005 for assistance. While warming weather is great for our spirits, it is not so great for shipping wine – we'll be watching temperatures closely and work with you to get the wine to your cellar safely.
On behalf of our families, please stay safe, stay healthy, and take care of one another in your neighborhoods. We can get through this when we show each other support, empathy, discipline, generosity, and the amazing resilient American spirit. It takes a village.
À Votre Santé,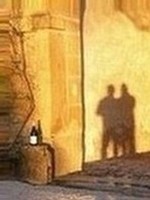 Renaissance is sold out! We are offering 2013 Nouveau Monde to fulfill the unexpected demand.
Sorry - Les Cailles is Sold Out!