2011 Forêt Pinot Noir
Wine Specs
Vineyard Designation
Guidici
Aging
16 Months, 33.3% New French Oak
March Madness: When Pigs Fly!
Ultimate Sommelier Smackdown
16 Pinots – 4 Master Sommeliers – 1 Winner
Soliste 2010 Forêt, Sonoma Coast
An unexpected recognition
Pigs and Pinot – There is no better pairing! Charlie Palmer's celebration of Pinot Noir and all things Pork has become an iconic event on the Pinot calendar. This year Master Sommelier (and 2014 Smackdown King) Keith Goldston selected 2010 Soliste Forêt to be included in the "Ultimate Sommelier Smackdown." Four Master Sommeliers each present four Pinot Noirs (16 in all) to be evaluated against each other in a shall we say, French debate style. No wonder Claude enjoyed it so much. Pairs of Pinots were brought together and the sommelier defended their choice (or spoke poorly of their competition and the pedigree of the other sommelier, you get the idea…smackdown!). A tent of 100 enthusiastic pinot lovers raised their hands to select their favorite. Four rounds later, Soliste Forêt stood alone, the winner of the 2014 Sommelier Smackdown.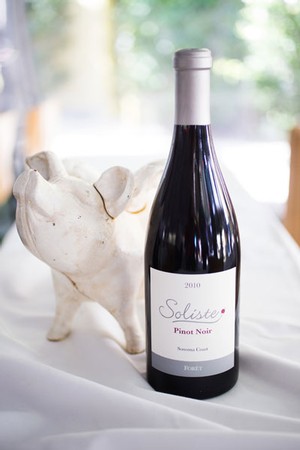 In the final round, scores of people held out empty glasses, asking for more Forêt – it was amazing! At that point, our dream was realized regardless of the outcome. We have always said the best way to determine the best wine is to look for the empty glass. The pinot-lovers voted with their palate and that ultimately is what really matters to us. The Flying Pig trophy held by our talented winemaker Ryan Zepaltas made a perfect centerpiece for our festive family celebration dinner late into the night.
Forêt represents everything we believe can arise from our commitment to Single Vineyard, Single Clone, and Single Cooperage (MonoClone®) wines. Why have we accepted this unknown risk to make MonoClone Pinots? It simply comes from our fascination for great red Burgundies. These amazing wines all have very different aromatics and complexities within just a few kilometers: Volnay is very different from Gevrey, Chambolle, Pommard, Vosne, Vougeot, Corton… So we decided to identify a Single Clone, married with a specific site, climate and exposure and then, to age individually in their respective single cooperage (barrels). Forêt is absolutely unique, stand-alone, and we did not think in our wildest dreams that it would be possible to craft a Pinot Noir in California of such depth, spice, and earthiness. Forêt is indeed ready now, but it will age for many years as the structure of this magnificent wine is timeless.
Forêt brings Claude back to his home in Bourgogne from a very unlikely place in the Sonoma fog where we began together with the journey that is Soliste.
Forêt 2011, the mysterious and intoxicating aromas of Vosne Romanée.

Tasting Notes
Le Regard / The Look
Mysterious depth and luminosity showing density and structure, dark boysenberry gemlike in the glass, a clear reflection of tannin purity.
Le Nez / The Nose
Extremely Exotic aromas of bitter caramelized wild cherries, plums, and earthiness interlaced with herbal tones, violets, espresso grounds, and refined scents of sous-bois (forest floor). As the wine evolves in the glass or decanter, the aromatics become more focused and dense with dark cherry compote aromatics, superbly elegant and powerful, adding bitter chocolate and pine needles.
Degustation / The Taste
The palate delivers extraordinary texture and depth with tight layers of exotic spice and black tea must. This is a wine of great depth, structure, and grip. Pronounced concentration of dark wild cherry compote and spiced plums spiked with bitter caramel, black pepper, and cocoa nibs. The mid-palate is definitely earthy (oh, Vosne Romanee here you come) laced of musty sous-bois (forest floor), mushrooms, black tea, anise, and fresh herbal aromatics, all in a superb balance and harmony. Positively refined in texture but palpably dense in tannic concentration accented with bright natural acidity, the finish is simply infinite. It will linger and linger and…This Pinot will age magnificently as the aromas will simply become more voluptuous with time.
Wine Specs
Vineyard Designation
Guidici
Aging
16 Months, 33.3% New French Oak
Wine Profile
Other Notes
149 Cases Produced