2012 Out of the Shadows Syrah
Wine Specs
Appellation
Bennett Valley
Aging
33 Months, 450L French Barrique
Sorry - Out of the Shadows 2012 is Sold Out!
When Don & I visited the Northern Rhone in the cold winter of 2008 we tasted memorable Syrahs from the masters at la fête de la Côte Rôtie in Ampuis. Escorted by our friend and talented chef-owner of La Folie in San Francisco, Roland Passot, the afternoon became surreal when we were invited to Monsieur Guigal's private cellar for a degustation we will not soon forget. It lasted hours but felt like just minutes.
Monsieur Guigal became a generous educator that day unveiling decades of wine making details and secrets to us; It was an epiphany and we certainly got a lesson on Syrah from masters of their craft, refining this superb cépage into powerful but elegant wines since Roman times. We took it all in and once back home went on our Soliste quest to seek an outstanding vineyard that would match what we had seen and learned in Ampuis. Our tenacious nature rewarded us when we came upon a stunning Syrah vineyard in Bennett Valley. Our first release of the 2008 vintage was an instant success, followed by the spectacular 2009 vintage. These superb Syrah reflect our commitment in the aging process, of over 33 months in barriques in the tradition of the Northern Rhone masters.
The 2012 vintage is remarkable – it certainly benefits from our experience of the 2008 & 2009 vintages and also from a gentle growing season with long hang time to create refined aromatics of exotic depth. (We did not bottle the 2011 vintage as it was not to our standards.) This Syrah is a muscular, powerful wine with trademark Soliste elegance, length and balance. It has the finesse of a great Côte Rôtie or Hermitage but the animal power of a Cornas. It also has the ability to age for decades.
Vintage Notes at a Glance
2012 was a gentle and ideal growing season. We harvested at first light and field sorted. This vintage was gently destemmed with some whole cluster reserved. Following a brief cold soak, smooth fermentation of small lots with ritual manual punch downs was complete before barreling into 450 liter Barriques for aging.
Our Syrah comes from a sliver of a vineyard in the Bennett Valley hills. The site has a western exposure, gravelly soil and sits on the side of a small mountain. This provides excellent drainage, even sun exposure, and a cool climate. The vineyard has a breathtaking view of the Santa Rosa plain and is meticulously farmed.
2012 Out of the Shadows Syrah, Bennett Valley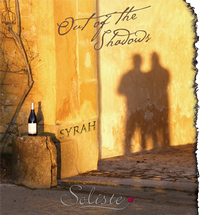 Cornas in the New World
Aged 33 months in 450 Liter Barriques/Foudre, 50% Whole Cluster
Tasting Notes
Le Regard / The Look
Attractive dark Robe that fuses black and purple tint into a brilliant, yet impenetrable density.
Le Nez / The Nose
Elegant concentration of violets over Cassis, blackberry and peppery wild plums (quetches) layered with licorice, beef fat drippings, floral scents and cloves. As the wine evolves in the glass or decanter, the aromatics become more voluptuous, conveying a tremendous sense of power, superbly focused and complex adding tobacco leaves, black olives and wet granite.
Degustation / The Taste
Up front the wine is a well-cast concentration of cassis, plums and infused dark wild cherries, interlaced with licorice and dried guarrigue herbs. The wine is very fat, coating the mouth with rich texture of violets, peppery caramelized dark plums, bacon fat, and star anise. This would be a Beast of a wine if the tannins had not been tamed by our commitment to age the wine for 33 months in large barrel. The middle palate becomes velvety, almost sweet, yet incredibly rich, with a wet stone minerality that stretches the wine, as the smooth but palpable tannins add exotic spice and black olive tones. Phenomenal acidity and balance add to the wine liveliness and focus. The finish is long, creamy, elegant, and effortless. It is a powerful caldron of tart cassis, black cherries, bitter caramel, and cocoa nibs creating length, complexity, and finesse. A Beast of a wine tamed by Soliste's commitment to craft elegant wines.

| | |
| --- | --- |
| 14.5% alc. 195 cases produced | Available 750ml $75 |
Wine Specs
Appellation
Bennett Valley
Aging
33 Months, 450L French Barrique
Wine Profile
Production Notes
50% Whole Cluster
Other Notes
200 Cases Produced