2012 Solitaire Pinot Noir
Wine Specs
Vineyard Designation
Guidici
Aging
28 Months, 100% New French Oak
This product is no longer available or is on limited allocation. Please contact us to see if it is available in our Library.
and so it begins...
SOLITAIRE 2012 – ONE BIG BARREL
Single Vineyard, Single Clone, Single Barrel – MonoClone®
Learning from the best in Chambolle
On our last visit to Burgundy, Don and I were privileged to spend time with Francois Bertheau, who has been a great favorite of mine for crafting the most elegant and complex Chambolle, especially his Bonnes Mares. This was a long day of great food and extraordinary wines, but the most compelling memory was the tasting of the 2007 vintage in barrels, which were simply intoxicating. Francois was especially generous with his time as we had a thousand questions and he revealed without hesitation what he believes makes his wines so compelling. One of the key component is that Francois will use large 600 liter barrels from a specific forest and tonnellerie (cooperage). He also extends the aging to allow for the wine to develop exotic aromatics and to round the shoulders, creating wines of great complexity, lace, and silk.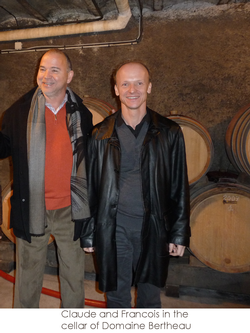 We took note. Years later, Don and I still speak of that magical day that was truly an epiphany for us, especially after we opened some of the 2007 Bonnes Mares and Les Amoureuses that we were so fortunate to taste in barrel and enjoyed once bottled. Simply put, they are why we make Pinot Noir.
In 2012 as the planets aligned, we decided that the time was right to put that "Bertheau" philosophy to the test. From the vineyard nestled in the redwood forest, we selected the very best grapes through multiple passes at harvest and with 50% whole cluster fermentation. We aged the wine in ONE 600 liter barrel, with this vintage we felt we it could age for an extended time…we waited, AND WAITED…for 28 Months…to create SOLITAIRE.
There are very few times one can feel truly lucky and privileged that their craft can stand along with the very best. SOLITAIRE confirms all of our expectations and embodies our commitment and passion to craft compelling Pinot Noirs. SOLITAIRE originates from humble admiration of the magnificent, peerless wines of BERTHEAU and we thank Francois for showing us the way.
SOLITAIRE is simply magical, if you have the chance to taste this wine blind next to a Bonnes Mares Grand Cru from Bertheau, it will be quite a day!!!! I simply can not believe how amazing the similitudes are, especially being from opposite side of the world. Our goals have always focused on being in the conversation with Great Burgundies and SOLITAIRE is the reward – anything else for us is simply not acceptable. Some may feel that it is presumptuous of us to even declare such ideas, others, closer to us hint it is just madness…obsession.
We could tell you so much more about this fascinating wine, the magnificent vineyard, steep slope in the middle of the redwoods, just a few rows lost in the fog, the commitment to pick over multiple days in the middle of the night to gather the very best clusters, the search for the perfect barrel, but the best part will be in the glass, when you really taste this wine.
When we opened the first bottle the other night over one of our legendary dinners next to a 2007 Bertheau Bonnes Mares, we were speechless and a little confused of which one was in which glass. I thought that I may have switched the glasses in error. Then we smiled, we smiled a lot. Since SOLITAIRE was born from One 600 liter barrel and we also believe that this Pinot Noir will age magnificently, we also decided that we would bottle half of it in Magnums. Big barrel. Big bottles, makes sense to us.
In Burgundy, a winemaker may reserve a special barrel for friends and family. They call this barrel Soliste. SOLITAIRE defines the origin and the promise of Soliste. From one barrel only 39 cases of 750s and 24 of Magnums of Solitaire were produced. Although it hurts to part with so few bottles, sharing this special release with you, the very few that have been loyal supporters of our journey, fills us with joy and pride.
SOLITAIRE ….. MERCI FRANCOIS BERTHEAU!!!
2012 Solitaire Pinot Noir, Sonoma Coast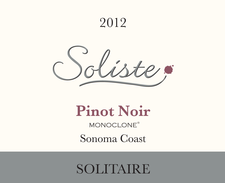 Tasting Notes
Le Regard / The Look
Exquisite depth and luminosity showing density and structure, raspberry and boysenberry gemlike in the glass, like a dark scintillating ruby.
Le Nez / The Nose
The nose is brimming with seductive red fruits, intense and spiced with earthy minerality. Exotic aromas of wild cherries and raspberries soaked in Kirsch interlaced with herbal essences, violets, toasted pistachios, and marzipan. As the wine evolves in the glass or decanter, the aromatics become more focused and dense with dark cherry compote aromatics, sous-bois ( forest floor) accented with a marrow like sense of meaty richness that fills the air. Stunning!!!
Degustation / The Taste
Pronounced concentration of dark wild cherry and blueberry compote lifted with cloves, anise, and cardamom. This is classic Chambolle; the mid palate delivers an elegant silky and refined texture, very exotic and elastic, filling the mouth with caramelized plums and fresh herbal aromatics, all in a superb balance and harmony. Positively refined in texture the smooth tannins have clearly benefited from the extended barrel aging, accented with bright natural acidity of tart pomegranate and cranberries. Great length on the finish…this Pinot will age magnificently as the aromas will simply become more voluptuous with time.
Wine Specs
Vineyard Designation
Guidici
Aging
28 Months, 100% New French Oak
Wine Profile
Other Notes
66 Cases Produced