2013 Extravagant Pinot Noir
This product is no longer available or is on limited allocation. Please contact us to see if it is available in our Library.
EXTRAVAGANT
Single Vineyard, Single Clone, One Barrel – MonoClone®
Where It All Began: A Historic Barrel

In 2005, Soliste was born.
We crafted 139 cases of our first Pinot Noir from a family-owned, artisanal vineyard located in the Sonoma Coast appellation near Sebastopol. The site is unique; three small hills with different exposures of slopes facing North, South, and West. The site funnels brisk marine winds over the vines reducing vigor and extending the ripening period of the grapes, resulting in exceptionally complex and nuanced flavors. The vineyard is farmed gently and sustainably, reflecting the grower's commitment to premium fruit and environmentally aware practices.
Then beginning with the 2009 vintage we made the decision to return to the roots of Burgundy and the craftsmanship of the Cistercian monks of Vougeot to focus on single clones from single vineyards and matured in single cooperage. Our limited production MonoClone® pinot noirs reflect our commitment to harness the purity and complexity of one clone from one vineyard.
The 2013 Vintage for pinot noir is an exceptional one at Soliste. Because of our obsessive desire to craft compelling Pinot Noir, we selected the very best grapes through multiple passes at harvest and with 50% whole cluster fermentation. We aged this wine for 16 months in a single 225 liter barrel selected from Tonnellerie Rousseau, our favorite cooperage in Burgundy, to create complexity, elegance, and a refinement rarely seen outside of Côte De Nuits.
EXTRAVAGANT is a complex, deep Pinot Noir with broad shoulder, generous in the mouth and nose, with the pedigree of La Chapelle Chambertain. Our goals have always focused on being in the conversation with Great Burgundies and EXTRAVAGANT is of that brotherhood – anything else for us is simply not acceptable. Some may feel that it is presumptuous of us to even declare such ideas, others, closer to us hint it is just madness…obsession.
There are very few times one can feel truly lucky and privileged that their craft could stand along the very best. EXTRAVAGANT confirms all of our expectations and embodies our commitment and passion to craft compelling Pinot Noirs. EXTRAVAGANT is The One Barrel that stood out among the very best, and therefore we felt to keep it singular to reflect our origins and a decade of refinements.
In Burgundy, a winemaker may reserve a special barrel for friends and family. They call this barrel Soliste. EXTRAVAGANT defines the origin and the promise of Soliste. From one barrel only 23 cases of 750s were produced and bottled and waxed by hand. Although it hurts to part with so few bottles, sharing this special release with you, the very few that have been loyal supporters of our journey, fills us with joy and pride.
EXTRAVAGANT...why we make Pinot Noir!
2013 EXTRAVAGANT Pinot Noir, Sonoma Coast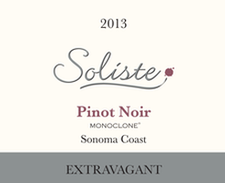 Tasting Notes
Le Regard / The LookIntense depth and luminosity of dark boysenberries showing density and structure, violet robe, with pure reflections of amethyst gem.
Le Nez / The Nose
Highly nuanced nose of darkly fruited compote (dark cherries, spiced plums, blueberries), intertwined with sous bois (forest floor), truffles and black pepper. The mid-nose is deeply sensual and exotic with aromas of cardamom, vanilla and herbal tones. As the wine evolves in the glass or decanter, the aromatics become more elevated and dense with intense dark fruit, the always-present caramelized dark wild cherries, raspberries, laced with black tea must and cocoa nibs. A lingering aroma of black truffles and elegant toasted French oak accentuates the depth of the wine..
Degustation / The Taste
Superb intensity of black cherry, cassis and licorice; very chewy at first with an abundance of earthy aromas (sous-bois & truffles), spiked with wild game roasted meat. This is decidedly a muscular, intense Pinot Noir with tons of weight and power enshrouded by statuesque tannins texture and depth. The mid-palate is ethereal, carrying on the savory, meaty black fruit (caramelized plums and cherries) with slate and exotic black pepper. As the wine opens up, the tannins become extremely polished yet firm, lifting the wine with red fruit and rose petal aromas. The finish is of perpetual elasticity, exotic, silky, velvety, yet peppery and herbal. We suggest decanting the wine at least 30 minutes to fully appreciate the developing aromas.
| | |
| --- | --- |
| 13.2% alc. 23 cases produced | By Extremely Limited Allocation 750ml $100 |
Wine Profile
Other Notes
25 Cases Produced