2014 Contrebande Pinot Noir

The Rare Release
ONE Single Barrel
Two Uniquely Crafted MonoClone® Pinot Noirs

From the first vintage, Soliste's quest has always been (and will always remain) to craft extraordinary Pinot Noirs that will be part of the conversation of the great Burgundies that have been created by centuries of commitment from the Cistercian monks of Vougeot. At Soliste, we deeply believe that these traditions, discipline, and uncompromising methods are the foundation and structure that drive us to produce such wines. We also believe that it is best to let others, not us, talk about the wines of Soliste, especially when it comes from voices that are deeply in love with great wines.
Master Sommelier Andy Myers is the wine director for José Andrés' ThinkFoodGroup, including nationwide locations of Jaleo and other José Andrés restaurants. In his interview for Wine Spectator's, "Sommelier Roundtable: New World Alternatives for Old World Palates" Andy stated:
"I'd send the Burgundy folks to Claude Koeberle and his stunning Soliste range of [Sonoma] Pinot Noirs. Pound for pound, these are some of the best Pinot Noirs in the world. I don't like tossing "Burgundian" around when talking about New World wines, so I will just say that these show a magnificent marriage between form and function."
Speaking of Chef José Andrés, it is important that we acknowledge his exceptional work through World Central Kitchen in response to the Hurricane Maria humanitarian crisis in Puerto Rico and more recently, assisting survivors of the recent Butte County fire in California. He has just been nominated for a Nobel Peace Prize, and in today's conflicted times, the message of food as sustenance to bring together communities strongly resonates with us. His unselfish deeds speak louder and have more impact on the daily lives of people in need than political photo ops and twitter malaise that only divide us.
It reminds us why we make wine. Great wines are the social connector that when shared at the table with friends and family, create lasting memories. Wines are agnostic, they facilitate a civilized platform for conversation and many happy and joyful moments that we must admit, we could use in today's world. When we hear from you about a bottle of Soliste being shared with your friends our hearts swell with pride and satisfaction that our adventure is touching lives around the dinner table.
For this holiday season, we are releasing two of our rarest wines (only One barrel of each produced), the 2014 MonoClone Single Barrel Pinot Noirs. Claude recently shared lunch with Rusty Gaffney, the Prince of Pinot, where they tasted a number of the 2014 vintage wines. Since it is better to let others speak of our wine, Claude will sit this one on the sidelines as far as tasting notes (you can email us if you would like his notes). Here are Rusty's tasting notes and review of the wines he tasted that long afternoon.
"I had the opportunity to taste the 2014 Soliste MonoClone® Sonoma Coast Pinot Noirs three times, twice at home using my usual tasting regimen and once over lunch with winemaker Claude "Frenchy" Koeberle (a native of Burgundy). Claude is the only person I know who loves Pinot Noir more than me!"
2014 CONTREBAND MonoClone Pinot Noir, Sonoma Coast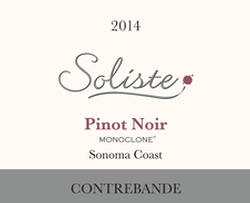 "115 MonoClone®. 25% whole cluster. Aged 28 months in one new French oak barrel. ·Gorgeous robe of moderate garnet in the glass. Enthralling perfume of black cherry and raspberry fruits accompanied by hints of spice and undergrowth. A lip-smacking wine with pristine balance, offering mid weight flavors of black cherry, purple berry, nutty oak and exotic spice. Everything you could ask for, including fine-grain tannins, exemplary acidity, and a vigorous finish that seems relentless. A killer wine with harmony that really stands out. Score: 94"
| | |
| --- | --- |
| 12.8% alc. 23 cases produced | By Extremely Limited Allocation 750ml $100 |
Wine Profile
Other Notes
23 Cases Produced