2014 Forêt Pinot Noir
Wine Specs
Vineyard Designation
Guidici
Harvest Date
Beginning 9/12/14
Aging
16 Months, 29% New French Oak
Use "WholesalePN" for restaurant-direct pricing

The 2014 MonoClone® Release
Forêt and Sonatera
Iron Fist in a Velvet Glove
Intense Concentration and Silkiness – the Pinot Noir Paradox
Where it All Began
Our fascination with the great red Burgundies comes from the singular aromatics and complexities that are born in unique vineyards but a few kilometers apart. It is why we undertook the challenge and risk to focus on each specific clone of Pinot Noir that is best in harmony with each vineyard site – our Single Vineyard, Single Clone, and Single Cooperage wines – MonoClone®.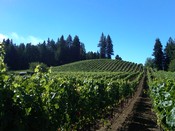 Forêt comes from a magnificent secluded vineyard near Occidental. The hillside vineyard has a northeastern exposure, a very steep slope, and is in the middle of a spectacular redwood forest. Just 6 miles from the Pacific Ocean on the western coastal range, is perhaps the most visually stunning vineyard which we are entrusted – the depth of aromatics and spice in Forêt is a pure reflection of this truly unique vineyard's site, slope, climate, and clone.
In French, there is no word for "winemaker" – only Vigneron; The one that tends the vines. Great Winemakers have a deep respect and understanding for what the vineyards and nature have magically produced. It is for that reason that great wines should not be overly manipulated but be a harmonious reflection of the vineyard site, the climate, the clone, and tenacious vine management. He is the humble shepherd, not an Alchemist. After all, a beautiful face does not need much make-up.
Both of these wines exemplify the Soliste style and its paradox: Elegant yet intense; focused and complex, powerful and refined. These two pinots are both born from the same family but raised as distinct cousins of their own character and personality. Vive la Différence!
2014 Forêt Pinot Noir, Sonoma Coast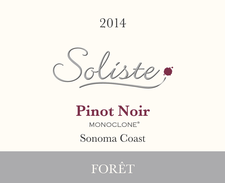 Tasting Notes
Le Regard / The Look
Deep hues of dark cherries and brilliant amethyst gemstone, showing specs of skin pulp which denotes press extraction.
Le Nez / The Nose
Forêt is unfurling in the glass with a complex bouquet in which notes of blackcurrants, cherries, spiced plums and dark chocolate mingle with nuances of redwood pine needles, orange rind, and grilled meats. As the wine opens, profound aromas of dark fruit compote, licorice, spiked with alpine forest fragrance, elevate the wine to an Amaro-like backbone.
Degustation / The Taste
The front palate is wonderfully thick and dense, with pure concentration of blackberries, cherries, cassis, and violets, all lifted with high herbal and floral tones. The mid-palate possesses an immensely concentrated core that largely conceals the wine's rich structuring tannins. On the back end, the dark fruit concentration becomes tamed by the longer aging time in our French oak barrels, adding earthy tones, exotic spices and black pepper, all in perfect harmony. Forêt finishes impressively with regal, seamless tannins, intense black cherry and violet lift, and terrific pungent stony minerality lined with pine needles.
This is a magical and noble wine in our grand tradition of MonoClones that will age for years to come, reminding me of the great Chambertain from Armand Rousseau.
Forêt…...The Noble One.
| | |
| --- | --- |
| 13.8% alc. 247 cases produced | By Limited Allocation 750ml $85 |
Wine Specs
Vineyard Designation
Guidici
Harvest Date
Beginning 9/12/14
Aging
16 Months, 29% New French Oak
Wine Profile
Production Notes
50% Whole Cluster
Other Notes
245 Cases Produced