2014 Renaissance Pinot Noir
Wine Specs
Harvest Date
9/3/14 - 9/12/14
Aging
16 Months, 40% New French Oak
Use "WholesalePN" for restaurant-direct pricing
2014 Renaissance MonoClone® Pinot Noir
and so it continues...
In 2005, we made our first Pinot Noir from the family vineyard (only 136 cases produced, that's it!) located in a unique site that we believed would grant us the ability to craft wines with a style that would satisfy our infatuation for the great Burgundies that we love. In 2009, from the same site, we challenged ourselves to make our Pinot Noirs from a single vineyard, single clone, and allocate a single cooperage barrel house in France to deliver uncompromised focus to each wine. The MonoClone® was born and we registered the trademark to protect our beliefs.
Having said that, we did not become stubborn about the MonoClone or infatuated by the idea, the wines had to deliver. If they did not, we would have gone back to blending the clones. Our MonoClone focus has produced spectacular wines, and so here we are, 9 years later with the 2014 harvest and Renaissance.
2014 had a moderate winter resulting in an earlier start to the vintage. We enjoyed a cool spring and a good fruit set. Overall it was a temperate, gentle growing season that helped to nurture complexity, length, and concentration along with quality and consistency both in and among our vineyards. While the persistent drought was concerning in some areas, our cool, coastal sites remained unaffected.
Renaissance comes from one of those unique vineyard sites that truly exemplifies the Soliste philosophy and style. The hilltop vineyard has three different exposures, facing north, south, and west. This geography funnels brisk marine winds over the vines reducing vigor, extending the ripening period of the grapes, and allowing distinctive aromatics to develop. Once you have tasted Renaissance Pinot Noir, you will always be able to identify its origins.
2014 Renaissance Vineyard Pinot Noir, Sonoma Coast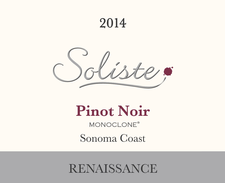 Tasting Notes
Le Regard / The Look
Scintillating amethyst gemstone in the glass, very deep, highlighting the structure and pure concentration of the wine.
Le Nez / The Nose
As the wine opens up, the beautiful bouquet emanates from the glass in a glorious blend of dark fruit compote (plums, cherries, and blackberries), grilled meat, cocoa nibs, and herbal tones.
Degustation / The Taste
As for all things Pinot Noir, there is a Paradox: Remarkably, the upfront fruit palate is brighter than the nose tends to believe, with a focus on red fruits, raspberries, boysenberries, strawberry rhubarb compote, beautifully interlaced with sage and bay leaves herb notes that comes from the whole cluster press. Renaissance possesses great energy and verve at the onset and delivers a mouthful of pure red fruit coulis spiked with savory herbs and minerality. The middle palate is dense and chewy, flushed with intense red Montmorency cherry compote that has been soaked in Kirsch. This a high pitch wine, extremely vibrant framed by aromas that are pure, vivid, but yet concentrated; it's like eating raspberry pates de fruits…Just Delicious!!!!
I decanted the wine for an hour and as the wine opened up, Renaissance became a third wine (1. Was the nose, 2. The first taste, 3. Now the decanted wine). This is why we drink Pinot Noir, no other variety has more evolution and metamorphosis. In the glass, Renaissance is now creamy, voluptuous, exotic, and in complete harmony. This is a wine that will create quite a conversation when tasted over 2 hours, it reminds me of the 2009 Clos St. Jacques Chambertain; sweet and tart, aromatic fruit, raspberry cherry with the finest herb and floral intricacies. Perfect balance and harmony with exquisitely fine-grained, flowery tannins and integrated acid brightness. Renaissance possesses the purest Pinot Noir concentration, depth, and structure which guides the palate effortlessly to a very long, sustained bright finish. May we say, Clos St Jacques…LEGENDARY.
Please decant for full benefit, you will be rewarded.
| | |
| --- | --- |
| 13.1% alc. 123 cases produced | By Limited Allocation 750ml $85 |
Wine Specs
Harvest Date
9/3/14 - 9/12/14
Aging
16 Months, 40% New French Oak
Wine Profile
Production Notes
50% Whole Cluster
Other Notes
121 Cases Produced