2014 Sonatera Pinot Noir
Wine Specs
Vineyard Designation
Sonatera
Use "WholesalePN" for restaurant-direct pricing
Forêt and Sonatera
Iron Fist in a Velvet Glove
Intense Concentration and Silkiness – the Pinot Noir Paradox
Where it All Began
Our fascination with the great red Burgundies comes from the singular aromatics and complexities that are born in unique vineyards but a few kilometers apart. It is why we undertook the challenge and risk to focus on each specific clone of Pinot Noir that is best in harmony with each vineyard site – our Single Vineyard, Single Clone, and Single Cooperage wines – MonoClone®.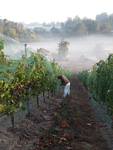 Sonatera is one of those unique vineyard sites that truly exemplifies the Soliste philosophy and style. The hilltop vineyard has three different exposures, facing north, south, and west. This geography funnels brisk marine winds over the vines reducing vigor, extending the ripening period of the grapes, and allowing distinctive aromatics to develop. Once you have tasted Sonatera Pinot Noir, you will always be able to identify its origins.
In French, there is no word for "winemaker" – only Vigneron; The one that tends the vines. Great Winemakers have a deep respect and understanding for what the vineyards and nature have magically produced. It is for that reason that great wines should not be overly manipulated but be a harmonious reflection of the vineyard site, the climate, the clone, and tenacious vine management. He is the humble shepherd, not an Alchemist. After all, a beautiful face does not need much make-up.
Both of these wines exemplify the Soliste style and its paradox: Elegant yet intense; focused and complex, powerful and refined. These two pinots are both born from the same family but raised as distinct cousins of their own character and personality. Vive la Différence!
2014 Sonatera Vineyard Pinot Noir, Sonoma Coast
Tasting Notes
Le Regard / The Look
Intense depth of dark boysenberries and amethyst gemstone, showing weight and structure.
Le Nez / The Nose
Following quick decant, generous aromas displaying black fruits; spiced plums, blackberries, blueberries, layered with inky graphite, and the ever-present vanilla, a typical trait of Sonatera. As the wine develops in the glass, the aromatics become more exotic and meaty with blackberry liquor and dark black cherries, spiked with earthy tones, minerals and cocoa nibs. A lingering aroma of cardamom, black earth with forest floor leaves on a foggy morning magnify the wine's depth and structure.
Degustation / The Taste
The palate delivers an extraordinary creamy texture and depth with pure concentration of blackberries, blueberries, and red plums, chewy in the gums but silky on the palate. Rich, concentrated and focused, yet absolutely smooth and creamy -- this Sonatera 2014 is one for the ages. The dense dark fruit compote is infused by espresso, cocoa nibs, roasted meat drippings, and blackberry liquor creating great depth. The mid-palate is extremely silky and ethereal, with layers of violets, Sambuca, and grilled porcinis. The tannins are extremely polished and buttery, with hits of espresso, black tea must, cocoa nibs, and cassis. The finish is of powerful elegance, like a fine 30 year-old balsamico -- liquid sex!!
This vintage reflects perfectly the great paradox that is Pinot noir, powerful, concentrated yet elegant and silky.
Sonatera 2014...Where it all began, circa 2005
| | |
| --- | --- |
| 13.5% alc. 97 cases produced | By Limited Allocation 750ml $85 |
Wine Specs
Vineyard Designation
Sonatera
Wine Profile
Other Notes
96 Cases Produced