2016 Forêt Pinot Noir
Wine Specs
Vineyard Designation
Guidici
Harvest Date
Beginning 9/23/16
Aging
16 Months, 28% New French Oak
Use "WholesalePN" for restaurant-direct pricing
Triptych of 2016 MonoClone® Pinot Noirs
Sonatera – Renaissance - Forêt
Our most Burgundian of Vintages:
Precise Fruit Concentration and Spice
Seductive Earthy Aromatics - Spiked with Pure Acidity
Where it All Began
Our fascination with the great red Burgundies comes from the singular aromatics and complexities that are born in unique vineyards but a few kilometers apart. It is why we undertook the challenge and risk to focus on each specific clone of Pinot Noir that is best in harmony with each vineyard site – our Single Vineyard, Single Clone, and Single Cooperage wines – MonoClone®.
We talk about the legendary Burgundies because they are the benchmarks and what inspires and drives our madness. Our dream was simply to be in the conversation one day. As we introduce our 2016 vintage to you, our years of effort are clearly showing up in the glass where it counts. Claude says, "It's our most Burgundian of vintages," to which Don noted, "Wait, didn't you say that already?" His typically Gallic response, "No Don – Pay Attention! I talked about how the 2014's evolved over an hour like a great Burgundy. This vintage has it all – concentration, aromatics, earthiness and acid – this what we've been waiting for."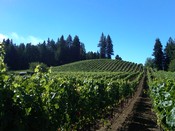 Forêt comes from a magnificent secluded vineyard near Occidental. The hillside vineyard has a northeastern exposure, a very steep slope, and is in the middle of a spectacular redwood forest. Just 6 miles from the Pacific Ocean on the western coastal range, is perhaps the most visually stunning vineyard which we are entrusted – the depth of aromatics and spice in Forêt is a pure reflection of this truly unique vineyard's site, slope, climate, and clone.
These wines exemplify the Soliste style and its paradox: Elegant yet intense; focused and complex, powerful and refined. These pinots are each born from the same family but raised as distinct cousins of their own character and personality. Vive la Différence!
2016 FORÊT MonoClone Pinot Noir, Sonoma Coast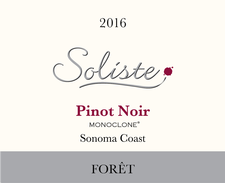 Tasting Notes
Le Regard / The Look
Deep hues of dark plums, cassis, boysenberries with brilliant amethyst gemstone, showing specs of skin pulp and minerals, which denotes whole cluster press extraction.
Le Nez / The Nose
Forêt's alluring nose is a complex bouquet of blackcurrants, graphite mineral, black pepper, plums, Bing cherries, interlaced redwood pine needles. As the wines open up, profound aromas of dark fruit compote, licorice, spiked with Alpine forest smells, burnt orange peel, elevate the wine to an Amaro like infusion.
Degustation / The Taste
Decanting is a must for this wine to appreciate all of its subtilities. The front palate is exceptionally voluptuous and textural, with pure concentration of blackberries, dark cherries, boysenberries, and candied violets, all lifted by dried herbal and evergreen forest. The mid-palate possesses an immensely concentrated core of dark fruit compote, framed by the rich structuring tannins created by our commitment to the whole cluster press. As the wine opens up, the luscious, exotic dark fruit elixir is layered with pulpy tannins adding earthy tones, gaminess, exotic spices, mint, and black pepper, all in perfect harmony. The finish is impressive in its length, focus and complexity. The whole clusters are definitely present, chewy, grippy, pulling the richness of the fruit into an aristocratic elegance. Bright acidity of red tart cherries, cranberry, and violet, infused with wet stone minerals lift the mid-palate fruit density, elongating the wine into a perpetual finish.
Forêt 2016 is a Vigneron's dream; a rare vintage opportunity to craft a Pinot Noir of great Nobility, that will enter into the conversation of Great Burgundies at our dinner table.
Forêt…The Aristocrat & the Vigneron.
| | |
| --- | --- |
| 14.1% alc. 189 cases produced | By Limited Allocation 750ml $85 |
Wine Specs
Vineyard Designation
Guidici
Harvest Date
Beginning 9/23/16
Aging
16 Months, 28% New French Oak
Wine Profile
Production Notes
42% Whole Cluster
Other Notes
193 Cases Produced