2016 L'Ermite Rouge Pinot Noir
Wine Specs
Aging
22 Months French Oak Single Barrel
L'ERMITE ROUGE
Single Vineyard, Single Clone, One Barrel – MonoClone®
The Enigmatic Pinot Noir

Far West in coastal Sonoma, off a winding road through the magnificent redwoods, away from noise, urban pollution, and distraction, a vineyard has been carved that truly exemplifies the term "a sense of place."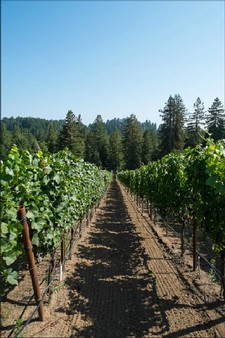 The vineyard feels monastic – deep silence is barely interrupted by the wind ruffling the leaves or a Red-tailed Hawk serving as sentinel. The giant redwoods frame the vineyard, towering like guardians over a land lost in time. When we walk the vineyard, without knowing, we lower our voices, our pace slows, and a feeling of deep calm envelops the air. Silence is controlling us and we believe, the vines. It is a Hermitage of Peace.
Beginning with the 2009 vintage we made the decision to return to the roots of Burgundy and the craftsmanship of the Cistercian monks of Vougeot to focus on single clones from single vineyards and matured in single cooperage. Our limited production MonoClone pinot noirs reflect our commitment to harness the purity and complexity of one clone from one vineyard.
The 2016 Vintage for pinot noir is an exceptional one at Soliste. Because of our continuous desire to craft compelling Pinot Noir, we selected the very best grapes through multiple passes at harvest and with 100% whole cluster fermentation. We aged the wine in a single 225-liter barrel from our favorite cooperage house in Burgundy for an extended time to create complexity, elegance and so …we waited, and WAITED…for 22 Months…to create L'ERMITE ROUGE.
L'ERMITE ROUGE is an ethereal wine that will challenge your senses. Our goals have always focused on being in the conversation with Great Burgundies and L'ERMITE ROUGE is of that brotherhood– anything else for us is simply not acceptable. Some may feel that it is presumptuous of us to even declare such ideas, others, closer to us hint it is just madness…obsession.
There are very few times one can feel truly lucky and privileged that their craft could stand along with the very best. L'ERMITE ROUGE confirms all of our expectations and embodies our commitment and passion to craft compelling Pinot Noirs. L'ERMITE ROUGE originates from humble admiration of the dedication from the Cistercian monks of Abbaye de Cîteaux who created Clos De Vougeot over centuries. Who knows if we would be enjoying Burgundies today if not for a handful of Monks and Ermites.
In Burgundy, a winemaker may reserve a special barrel for friends and family. They call this barrel Soliste. L'ERMITE ROUGE defines the origin and the promise of Soliste. From one barrel only 27 cases of 750s were produced, bottled, and waxed by hand. Although it hurts to part with so few bottles, sharing this special release with you, the very few that have been loyal supporters of our journey, fills us with joy and pride.
L'ERMITE ROUGE...alone among the giants.
2016 L'ERMITE ROUGE Pinot Noir, Sonoma Coast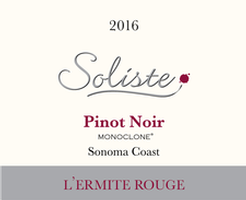 Tasting Notes
Le Regard / The Look
Superb Ruby and Garnet robe, crystalline gem brilliance with visible weight and texture supported by the 100% whole cluster press.
Le Nez / The Nose
Intoxicating exotic aromas of caramelized dark cherries, boysenberry, Cassis, interlaced with high herbal tones, violets, black pepper, vanilla bean, and cocoa nibs. As the wine opens up in the glass or decanter, the aromatics become more voluptuous and earthy with dark cherry and plum compote scents, spiked with cedar, espresso, and cardamom. Superbly elegant and powerful, the back nose has layers of cedar and black tea.
Degustation / The Taste
The front palate delivers an extraordinary silky and unctuous texture, with layers of exotic dark wild cherries, spiced plums, violets, and licorice. This is a wine of deep character, exceptionally smooth due to the extended aging in the cigar barrel. The fruit is harmoniously elevated with high floral tones, black pepper, cocoa nibs, espresso, stemming from the 100% whole cluster press. The mid-palate is very long, dense, and creamy, with musty sous-bois, truffles, cassis, tea must, and dry herbal aromatics, all in superb balance. The finish is all about elegance and a silky length that is elevated by tannin acidity giving the wine verve and lift. The long Ermitage barrel aging polished the tannins from the whole clusters but left all the complexity and exotic vibrancy intact creating a magnificent wine for you to savor for years to come.
Iron Fist in a velvet glove…Magical…Soliste
Wine Specs
Aging
22 Months French Oak Single Barrel
Wine Profile
Production Notes
100% Whole Cluster
Other Notes
27 Cases Produced