2016 Sonatera Pinot Noir
Wine Specs
Vineyard Designation
Sonatera
Triptych of 2016 MonoClone® Pinot Noirs
Sonatera – Renaissance - Forêt
Our most Burgundian of Vintages:
Precise Fruit Concentration and Spice
Seductive Earthy Aromatics - Spiked with Pure Acidity
Where it All Began
Our fascination with the great red Burgundies comes from the singular aromatics and complexities that are born in unique vineyards but a few kilometers apart. It is why we undertook the challenge and risk to focus on each specific clone of Pinot Noir that is best in harmony with each vineyard site – our Single Vineyard, Single Clone, and Single Cooperage wines – MonoClone®.
We talk about the legendary Burgundies because they are the benchmarks and what inspires and drives our madness. Our dream was simply to be in the conversation one day. As we introduce our 2016 vintage to you, our years of effort are clearly showing up in the glass where it counts. Claude says, "It's our most Burgundian of vintages," to which Don noted, "Wait, didn't you say that already?" His typically Gallic response, "No Don – Pay Attention! I talked about how the 2014's evolved over an hour like a great Burgundy. This vintage has it all – concentration, aromatics, earthiness and acid – this what we've been waiting for."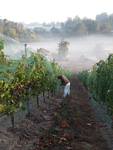 Sonatera is one of those unique vineyard sites that truly exemplifies the Soliste philosophy and style. The hilltop vineyard has three different exposures, facing north, south, and west. This geography funnels brisk marine winds over the vines reducing vigor, extending the ripening period of the grapes, and allowing distinctive aromatics to develop. Once you have tasted Sonatera Pinot Noir, you will always be able to identify its origins.
These wines exemplify the Soliste style and its paradox: Elegant yet intense; focused and complex, powerful and refined. These pinots are each born from the same family but raised as distinct cousins of their own character and personality. Vive la Différence!
---
2016 SONATERA MonoClone Pinot Noir, Sonoma Coast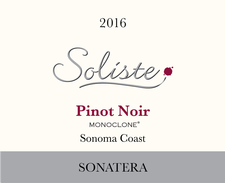 Tasting Notes
Le Regard / The Look
Intense blueberry robe, with the brilliance of an amethyst gemstone, unctuous on the glass, great texture and volume.
Le Nez / The Nose
Following quick decant, a firm and intensely concentrated nose displaying primary aromas of peppery plums, blackberries and dark cherries. The secondary swirl reveals waves of violets and dry herbal, accented by earthy sous-bois of Autumn leaves and mushroom floor. As the wine develops in the glass, the aromatics become savory and gamey with dark black cherry compote, accented with deep mineral tones and espresso grounds. A superbly seductive nose, like a great Corton!
Degustation / The Taste
The 2016 Sonatera is breathtaking in its beauty. It boasts gorgeous textural depth and richness in its eternal, endless layers of fruit. After a few swirls, the wine rewards us with a rich and precise extraction of dark cherries, plums, and dark cassis which are harmoniously balanced by dried herbal, tea must, anis and bay leaves. As the wine evolves, the mid-palate becomes more unctuous with definite gamey and earthy tones of mushroom dust which gives the wine its Burgundian comparatives. The back-end is refined, long and mineral, lightly toasted wood adds another layer to the grippy tannins. A pure cranberry like acidity lifts the wine into a nervy and eternal finish.
Sonatera is a totally seamless and seductive Pinot Noir that captures the style of the year and the personality of this unique vineyard. Exceptional!!!
Sonatera 2016 - Powerful Elegance - Corton!
| | |
| --- | --- |
| 12.9% alc. 45 cases produced | By Limited Allocation 750ml $85 |
Wine Specs
Vineyard Designation
Sonatera
Wine Profile
Other Notes
49 Cases Produced