2018 Evil Twins Pinot Noir
Wine Specs
Aging
16 Months, 0% New French Oak
We can't separate Twins - sold only in Pairs! [$224/pair, shipping included]
Welcome to our dark side - Single vineyard, from Two MonoClones, ONE barrel, never to be produced again
EVIL TWINS Pinot Noir
Evil Twins is the cumulative result of years of meticulous vineyard understanding, crafting a wine of extraordinary character and personality from Two Clones as different as we are, yet when assembled are simply magical.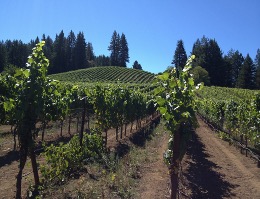 Clone 23 creates our MonoClone Forêt, and Dijon 828 creates our MonoClone L'Ambroisie. Both from a magnificent, secluded vineyard near Occidental. The hillside vineyard has a northeastern exposure, a very steep slope, and is in the middle of a spectacular redwood forest. Just 6 miles from the Pacific Ocean on the western coastal range, is perhaps the most visually stunning vineyard to which we are entrusted – the depth of aromatics and spice is a pure reflection of this truly unique vineyard's site, slope, climate, and clones.
Evil Twins benefit from all previous harvests from this exceptional vineyard. Each Clone was sorted at midnight -"Boo!!!" The very best, stem ripe clusters were hand selected to be cold-soaked on the skins for 3 days. The Twins were whole cluster pressed, then aged in a neutral French oak barrel for 16 months.
2018 EVIL TWINS Pinot Noir, Sonoma Coast
Tasting Notes

Le Regard / The Look
The deepest cherry blood red clarity in the glass, with pulp density from the whole cluster press.
Le Nez / The Nose
The gorgeous aromatic bouquet soars from the glass instantly in expressive scents of red and black cherries, plums, raw cocoa, grilled meat, herb tones, a great base of pine needle soil, and a refined framing of sweet vanilla. Once it opens up in the decanter, the perfumed bouquet explodes with layers of morello cherry, quince, raspberry preserve, crushed rock, and elements of darker fruit that become more pronounced with aeration—blackberry and a touch of blueberry.
Degustation / The Taste
The first taste flows across the palate with fabulous depth and richness. Dark red fruit, blueberry, cocoa nibs, licorice, violets, and exotic spices all come together in the glass, while the intensity of the fruit covers every corner of the palate. This powerful wine is impeccable, not to mention stunning in its beauty and textural elegance, the Burgundy Paradox. As the wine evolves in the glass, all the components become magnified and voluptuous, deep, full-bodied, tangy, and quite sappy at the core, with fine redwood soil signature and ripe elevated tannins from the whole cluster press. It is a model of extreme purity and grace, the fruit is impossibly sweet, perfumed, and resonant. As the wine keeps evolving, the silky rich texture with saline and savory spikes, elevates the wine to a vibrant, sensual and long finish highlighted by blood oranges and green fennel tops.

2018 EVIL TWINS Pinot Noir - This is the closest Twin that I have tasted next to Clos St Jacques 2015 from Rousseau.
Wine Specs
Aging
16 Months, 0% New French Oak
Wine Profile
Production Notes
100% Whole Cluster
Other Notes
24 Cases Produced