2018 L'Eternel Pinot Noir
Wine Specs
Aging
16 Months, neutral French oak
Our Rare ONE-BARREL Release
TRIPTYCH OF MONOCLONE® PINOT NOIRS
From the Phenomenal 2018 Vintage
Single Vineyard, Single Clone, ONE barrel…Soliste
Claude and I sat together the other day to taste three of our 2018 Single Barrel MonoClone Pinot Noirs and select one to release. As our story goes, the name Soliste comes from the special single barrel the Burgundian vigneron reserves for friends and family. Our single barrel wines represent the promise and journey that is Soliste. We wanted to select an outstanding single barrel wine from an exceptional vintage to share with you.
Each of these three wines epitomized why we love Pinot Noir. Of all the cépages, it is the most complex, exotic, cerebral, and enigmatic. And at times, perhaps showing its French roots, can be very frustrating and challenging. This is why we are both infatuated with and passionate about Pinot Noir, and why we care so deeply about our mission to craft the very best wines year after year. Selecting just one took much debate – and more than a glass or two. Suddenly, Claude announced, "These are so incroyable, instead of waiting and releasing them one at a time, let's showcase them together, and at once!" Sometimes the best decision is no decision at all.
I'll turn it over to Claude for his tasting notes:
This stellar vintage captures all the Alchemy that becomes Great Pinot Noir. This is a vintage for the purist. 2018 has gifted us precision, depth, pure aromatics, and length to craft and select ONE barrel of three distinctive and singular Pinots from specific sites, terroir, and MonoClone. Each is aged for 16 months in a single barrel. The rewards are Pinot Noir's intoxicating nose, powerful yet refined with layers of pure fruit density, spice, sous-bois, truffles, amazing length, and complex finish.
These three One Barrel MonoClone wines are so uniquely different that we simply could not resist but to do ONE release for you to experience their individual character – Vive la différence!
2018 L'ETERNEL MonoClone Pinot Noir, Sonoma Coast - The Hedonist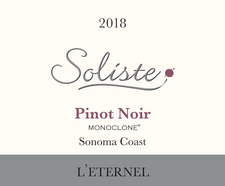 Absolute ruby gemstone clarity in the glass, pulpy density from the 100% whole cluster press. The nose is a bouquet of dry herbal, vanilla, and red cherries soaked in Kirsch, earthy, with smoked bacon fat, and dusty rose petals. As the wine opens up, the aromas become more voluptuous and sappy with intense perfumes of dark caramelized raspberries, red currants, licorice, vanilla, and black tea must. The front palate delivers an impressively racy and pure concentration of red fruits; red Montmorency tart cherries, raspberries, cranberries, and pomegranate, spiked with Kirsch, and exotic spices. The middle palate is linear, elegant, and hedonist, pure pleasure. The precision of the red fruit is framed with the 100% whole cluster press, which layers the wine into complex earthy tones, exotic spices, coco nibs, and sandalwood. The back palate is complex, with fennel tops interlaced with vanilla, cardamom, star anise, dry herbal tones, and spiced vanilla wood. The micro tannins lift this pinot to new heights, without astringency and elevate the tart red fruits to deliver a very long, tight and perfect finish. The impressive quality of this wine is how such harmonious concentration and texture can be magnified by the pure and natural acidity from the grapes and the stem inclusion. This is a very close cousin to Clos de La Roche.
| | |
| --- | --- |
| 13.4% alc. 23 cases produced | Extremely Limited 750ml $115 |

Wine Specs
Aging
16 Months, neutral French oak
Wine Profile
Production Notes
100% Whole Cluster
Other Notes
23 Cases Produced