SOLITAIRE MonoClone Pinot Noir Half Case
Sorry! The SOLITAIRE Set is also Sold Out!
Solitaire 2013, 2014, 2015 and 2016 …Learning from the best in Chambolle.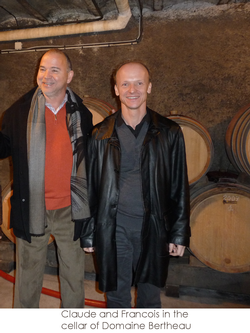 On our last visit to Burgundy, Don and I were privileged to spend time with Francois Bertheau, who has been a great favorite of mine for crafting the most elegant and complex Chambolle, especially his Bonnes Mares. This was a long day of great food and extraordinary wines, but the most compelling memory was the tasting of the 2007 vintage in barrels, which were simply intoxicating. Francois was especially generous with his time as we had a thousand questions and he revealed without hesitation what he believes makes his wines so compelling. One of the key components is that Francois will use large 600-liter barrels from a specific forest and tonnellerie (cooperage). He also extends the aging to allow for the wine to develop exotic aromatics and to round the shoulders, creating wines of great complexity, lace, and silk.
We took note. Years later, Don and I still speak of that magical day that was truly an epiphany for us, especially after we opened some of the 2007 Bonnes Mares and Les Amoureuses that we were so fortunate to taste in barrel and enjoyed once bottled. Simply put, they are why we make Pinot Noir.>
When the planets aligned, we decided that the time was right to put that "Bertheau" philosophy to the test. From the vineyard nestled in the redwood forest, we selected the very best grapes through multiple passes at harvest and with 50% whole cluster fermentation. We aged the wine in ONE 600 liter barrel, with this vintage we felt we it could age for an extended time…we waited, AND WAITED…for 28 Months…to create SOLITAIRE.
Here are the tasting notes for the two wines:
Each half-case includes 3 of each bottle - 6 total