FEBRUARY RELEASE NEWSLETTER 2023
---
Triptych of 2018 MonoClone® Pinot Noirs
L'Espérance – Renaissance – Forêt
The Ultimate MonoClone Release of the Phenomenal 2018 vintage

The Phenomenal 2018 Vintage - The Reward from a Near-Perfect Growing Season - Long Awaited!
It is amazing how a great vintage can temporarily erase from the mind the havoc that climate change has thrown at us. Especially for those like Soliste who are committed to craft elegant and complex Pinot Noirs, the most fragile of all grapes. Our patience has finally been rewarded with a near-perfect growing season in 2018. Sorely-needed winter rains helped to replenish the lakes and groundwater (though our generational drought is far from over). A cooler spring favored timing for a later, more consistent fruit set, less susceptible to frost challenges. Summer temperatures were cooler and moderate, and favored larger yields. We aggressively dropped fruit to enable concentration, demonstrating our commitment to quality over quantity. After being on edge from the 2017 heat spikes the temperate conditions were a welcome relief. As a result, harvest was three+ weeks later than in 2017 allowing for more uniform flavor development and stem lignification essential for whole cluster vinification. We carefully monitored flavor development and acids, and as is our practice, used multiple picks to select specific blocks as they matured. It was as close to a perfect growing season as we have seen in our history as vignerons.
Where it All Began
Our fascination with the great red Burgundies comes from the singular aromatics and complexities that are born in unique vineyards but a few kilometers apart. It is why we undertook the challenge and risk to focus on each specific clone of Pinot Noir that is best in harmony with each vineyard site – our Single Vineyard, Single Clone, and Single Cooperage wines – MonoClone®.
We talk about the legendary Burgundies because they are the benchmarks and what inspires and drives our madness. Our dream was simply to be in the conversation one day. Pinot Noir, for winemakers, is the ultimate challenge of all cépages. It is temperamental, fickle, thin skin grapes in small yielding clusters, very reactive to nano-weather variance (climate change), high-quality low yields are expensive to produce and harvest, and either fail to achieve their potential or are incredibly magnificent and complex, with peerless aromatics.
This exclusive set of our MonoClone Pinot Noirs allows you to experience the distinct clonal differences and precise vinification of the 2018 vintage. The wines in this set include:
In addition to the Prix-Fixe set, you may also select any of these wines a la carte in any combination you desire.
2018 MonoClone® Pinot Noir; Why it is important…MonoClone explained
Because of the devastating event of the 1860 Phylloxera that destroyed the vineyards of Europe, it was especially critical in Burgundy, where Burgundians had to replant twice. First, with American rootstocks that came from the Ohio Valley and were resistant to Phylloxera, but died a few years later because the roots were not acclimated to the acidity of the limestone soil of Burgundy. Second, when they were replanted by rootstocks from Texas/Oklahoma that had resistance to Phylloxera and acidic soils. (a great read: "The Botanist and the Vintner: How Wine Was Saved for the World" by Christy Campbell). During the early days of the disease, winemakers were losing vast amounts of vineyards, they did not know the cause and as a survival method, they thought that the cure would come by grafting other clones (we'll talk more about Pinot Noir clones below) and blending from multiple sources hence the term selection massale. This of course did not work and all of Burgundy was ravaged. However, when the vineyards were sound again in the late 1950s, selection massale remained as it was a safer way to homogenize the wine quality. In the new world, this is similar to vineyard-designate Pinot Noir where all the clones in the vineyard are combined into a single bottling.
This is where Soliste went back to the pre-Phylloxera era and decided to take the very large risk to craft our wines from a Single Clone from a Single Vineyard, so all of the attributes and focus of the single clone, influenced by the site and terroir of a single vineyard would not be diluted, homogenized, or covered up by the blending of multiple clones from different vineyards. We are convinced after a decade that this was the right choice, and it reflects in the individual personality and aromatics of each MonoClone Pinot Noir.
Because we have been called the Masters of Complication, we added one more layer to the process. As a chef, I always felt that fusion cuisine is confusion cooking. The same is true for wines. We did not look at barrels solely as aging vessels but as spice and complexity enablers that would add, enhance, but must not overwhelm the purity of the fruit. For each MonoClone, we selected a specific cooperage house (Tonnellerie, or barrel-maker) from France to associate the correct aroma and toast profile that would create the best harmony for the wine in their barrel journey until bottling.
Thus the MonoClone® was born and we registered the trademark to protect our beliefs. Our MonoClone focus has produced spectacular wines, and so here we are, a decade later, enjoying unique, compelling wines – all so different but sharing the same commitment to elegance, length, and complexity. Vive la différence!
(read more about Pinot Noir Clones and how they survived)
---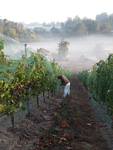 Sonatera - our foundational vineyard - is the source of L'Espérance and Renaissance. Two wines from adjacent rows of two clones is a unique opportunity to experience the clonal differences from the same soil and microclimate. Sonatera is one of those unique vineyard sites that truly exemplifies the Soliste philosophy and style. The hilltop vineyard has three different exposures, facing north, south, and west. This geography funnels brisk marine winds over the vines reducing vigor, extending the ripening period of the grapes, and allowing distinctive aromatics to develop.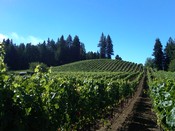 Forêt comes from a magnificent secluded vineyard near Occidental. The hillside vineyard has a northeastern exposure, a very steep slope, and is in the middle of a spectacular redwood forest. Just 6 miles from the Pacific Ocean on the western coastal range, is perhaps the most visually stunning vineyard to which we are entrusted – the depth of aromatics and spice in Forêt is a pure reflection of this truly unique vineyard's site, slope, climate, and clone.
These wines exemplify the Soliste style and its paradox: Elegant yet intense; focused and complex, powerful and refined. These pinots are each born from the same family but raised as distinct cousins of their own character and personality. Vive la Différence!
Wait a second! Did we miss the 2017 Vintage???
You may have noticed that we have skipped the 2017 MonoClone Pinot Noir release. Why? This is what Soliste is all about. In early August, we sat together at the table eager to taste the 2017s for our winter release. They were simply not ready. Tannic, astringent, and grippy, that suffocated the quality of the fruit. The wine structures were there but like a rebellious child, did not have time to show all of its promises, and time is what it takes; time to send him back to his room (cellar) to calm down. Sure, we could as many do, follow a schedule, release the wines for cash flow and ask you, the customer, to cellar them for a year or more – but that will never be Soliste. Our promise to you is to only release wines that we are proud to share with you at the dinner table. So we waited. We tried again in January; the wines had definitely improved but still needed a long decant to see the evolution. Time is all that they will need, rushing is not an option. Since we were in a tasting mood, we pulled out some 2018s just to check on them, and oh my – Incroyable! And here we are, that is the great mystery of wine and all of its surprises. Wine does not work on a spreadsheet-driven four times a year release schedule. It's nature and alchemy in a bottle, unpredictable, surprising, magnificent, and yes nerve-racking. In the same way harvests are dictated when the grapes are calling to be picked, Soliste only releases wines to you when, and only when, they are ready to be savored at their best. It's simple. It's one of the few decisions that the Masters of Complication have an easy time with.
---

L'ESPÉRANCE 2018…L'ENFANT PRODIGUE of Soliste
2018 L'ESPÉRANCE MonoClone Pinot Noir, Sonoma Coast
Elegance of the Grand Crus of Chambolle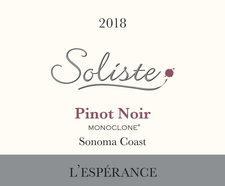 Tasting Notes
Le Regard / The Look
L'Espérance 2018 has a crystalline ruby and crimson gemlike purity with a hint of pulpy density and waterfall legs on the glass after a swirl.
Le Nez / The Nose
The Elegant and complex nose merges elevated aromas of red and dark currant, boysenberries, orange rind, and a plenitude of floral elements - along with hints of dusty dried rose petals, all framed by a discreet application of cedary oak.
Degustation / The Taste
On the front palate, the wine is silky rich with raspberry, kirsch-infused red cherries, medium-bodied, pure and sappy at the core with bright acidity. The middle palate is very expressive and complex, showcasing a peppery bright compote of red currant, raspberry, and pomegranate layered burned orange peel, white pepper, coriander seeds, all encased in a velvet glove. The remarkable fruit purity is lifted by polished tannins accented by black tea must, cocoa nibs, and a dry graphite boost. The micro tannins bring the wine to full harmony by elevating the concentrated fruit with tartness and spice. The finish is complex, slightly wooded, and very, very long, while the lightly tannic acidity brings balance to the floral finish…Iron fist in a velvet glove…Clos de la Roche West…Soliste.
2018 L'Espérance - Elegance of the Grand Crus of Chambolle
| | |
| --- | --- |
| 13.5% alc. 143 cases produced | |
---
RENAISSANCE
2018 RENAISSANCE MonoClone Pinot Noir, Sonoma Coast
Vosne Romanee, aux Brulees West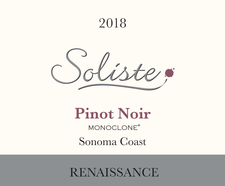 Tasting Notes
Le Regard / The Look
Bright, dark saturated crimson & amethyst is gemlike in the glass. Pulpy tannins in suspension show structure from the whole cluster press, anticipating chewiness and concentration.
Le Nez / The Nose
The nose is pure old world Burgundy; Caramelized raspberries and blueberries interlaced with violets, high herbal tones of peppery mint, graphite, and minerals. As the wine evolves in the glass or decanter, the pungent aromas become more focused and earthy. An abundance of red fruit compote and plum confit, perfectly layered with dried maple leaves, sous-bois (forest floor), umami, black tea must, ganache, and exotic spices. A most seductive bouquet.
Degustation / The Taste
The front palate reminds me of older Burgundies by the masters like De Montille, Lignier, Rousseau; wines that were meant to lay down for a while unlike the ready to drink, over-extracted, overly ripe, high alcohol modern versions that can never deliver the complexity and elegance of such Pinots. It is best to open the wine for at least 30 minutes to be able to appreciate all of the nuances Renaissance possesses. This is an extremely compressed layered wine, with an elegant textural mouthful of peppery blueberries, red plums, and tart griottines (wild cherries) saturated with dried herbal tones, violets, rose petals, and dried tobacco leaves. The mid-palate is generous, very old world, with a voluptuous texture coating the entire palate, elevated with a spicy grip, a clear element of the whole cluster press, followed by pure peppery blueberries and red cherry compote, earthiness, dried shitake mushrooms, rose petals, wood barrel spice, creating a wine of impressive allure. The wine definitely gains intensity and roundness with aeration; The back palate is well balanced with fine tannins creating a silky concoction of red and blue fruits, chalk, wet limestone, exotic spices, black tea must, and cocoa nibs. The elegant and sensual long and round finish lingers and lingers in the mouth with complex soft spice aromatics from our extended barrel time, creating a wine of great verve, silky texture, intense aromatics, and perfect structure.
The 2018 Renaissance is very reminiscent of old-world Burgundies, like the wines of legendary Hubert de Montille who crafted hard-assed wines; he did not care what Robert Parker or anyone else said, commitment to traditional methods that included a fair bit of tannin extraction, instead of jammy sugary concentration. Let's drink to that!!!
2018 Renaissance…The western cousin of Vosnes Romanee Aux Brulees.
| | |
| --- | --- |
| 13.4% alc. 167 cases produced | |
---
2018 FORÊT MonoClone Pinot Noir, Sonoma Coast
Le Chambertin West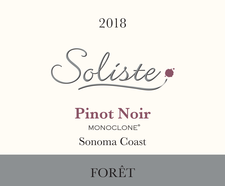 Tasting Notes
Le Regard / The Look
Deep Ruby and Garnet, showing specs of skin pulp which denotes press extraction.
Le Nez / The Nose
The deep and utterly brilliant bouquet delivers scents of peppery black plums, black cherries, cassis, earthiness, and dark chocolate mingle with nuances of redwood pine needles, orange rind, and grilled meats. As the wine opens, exotic aromas of spiced dark fruit compote, and licorice, spiked with alpine forest fragrance deeply envelop your senses
Degustation / The Taste
The front palate is wonderfully silky and dense, with a pure concentration of blackberries, cherries, cassis, and violets, all lifted with high herbal and floral tones. The mid-palate possesses a rich yet smooth texture, full-bodied yet elegant and elongated on the palate. On the back end, the dark fruit concentration becomes tamed by the longer aging time in our French oak barrels, adding earthy tones, exotic spices, and dried herbal tones. This is a wine of impeccable balance and poise. Forêt finishes in a classic Burgundian stance; the smooth tannins are just perceptible to accompany the wine into a voluptuous linear and sensual finish marked by the silkiest of texture and precise acidity; Minerality lined with pine needles. This is a pure, hedonistic, and noble wine in our grand tradition of MonoClones that will age for years to come.
2018 Forêt - Reminds me of the great Chambertain from Armand Rousseau.
| | |
| --- | --- |
| 13.6% alc. 117 cases produced | |
---

To celebrate the 2018 vintage and our first release in 2023, we are offering a set of three wines from this spectacular vintage. Since our restaurant partners are beginning their return, with respect for their wine lists we will no longer list wholesale prices on our website. However, we will continue to offer select wines at our special pricing for as long as we can. In addition to this new exclusive release and offer, we will continue to honor the special pricing reserved for our loyal customers on request. Please contact Don to receive restaurant-direct wholesale pricing and availability.
2018 MonoClone Pinot Noir Set




This exclusive set of our MonoClone Pinot Noirs allows you to experience the distinct clonal differences and precise vinification of the phenomenal 2018 vintage. The wines in this set include:

2018 L'Esperance Pinot Noir

2018 Renaissance Pinot Noir

2018 Forêt Pinot Noir

$510 $258

6 bottles, 2 of each wine

Shipping Included

2018 EVIL TWINS Pinot Noir


To highlight this phenomenal vintage, a wine of extraordinary character and personality from Two Clones as different as we are, yet when assembled are simply magical.

We can't separate Twins - sold only in Pairs!

​

$224 for Two

Shipping Included
Only 60 Twins available

Each of these wines is also available a la carte. Please see the Pinot Noir section of our online cellar.
Thanks to your overwhelming support, we continue to sell out many of the wines we have offered you. We remain eternally grateful for your support, heartfelt words of encouragement, and especially for forwarding our newsletter to your friends, whom we welcome into our Soliste family.
For orders of six bottles or more of any of our wines, shipping will be complimentary. Please visit store.soliste.com/wines to order, or contact don@soliste.com / 707-955-3005 for assistance. We deeply appreciate your business.
À Votre Santé,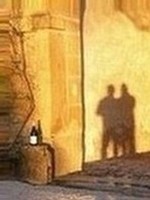 ---
Soliste® and MonoClone®are Registered Trademarks of Soliste Cellars. © 2020 Soliste Cellars. All Rights Reserved. 021923

Soliste
info@soliste.com | 707.955.3005
21402 Geyserville Ave | Geyserville, CA 95441