September 2020
HARVEST 2020
Yesterday is history. Tomorrow is a mystery. Today is a gift.

September is the month where we look forward to the new harvest. Harvest is always challenging in normal times and at Soliste we fully embrace those challenges that we see as an opportunity to better each wine with each vintage. We treat each vintage as an unfinished sculpture, always evolving, improving on complexity, and making micro changes for the sole purpose of refining each wine's personality from their terroir DNA. Harvest is not the culmination of a single growing season, but decades of roots digging deeper in the soil to ingest minerals and earth compounds that will determine the soul of the wine. And so, with each harvest, a learning continuity is established, linking the earth, the climate, the pruning, the vines, the clone selection, HARVEST, and finally vinification. And then we wait years and years for the wines to develop in barrels before sharing with you.
Soliste is our life, and we have always been committed to craft wines of unique character, elegance, and depth. We spare no expenses and efforts, there are no compromises at Soliste; every decision made is solely for the excellence of the wines and nothing else will do.
We have arrived at this crossroad, and we know that the easy path in life is never the right path, the hard path, the path less traveled is Soliste. Don and I made the extremely difficult decision that we will not pick in 2020.
This would have been a benchmark vintage numerically because our first vintage was 2005. But to decide to harvest, because it is 1900, 1945, 2000 or 2020, or any marketable dates, is simply absurd to us.
Not that I need the encouragement, but let me be blunt. 2020 was not shaping up to be a stellar vintage - extreme heat, warm nights, short hang time – all conspiring against depth and complexity that are vital to the wines we craft. In normal times, we would certainly exhaust all options and persevere. But add COVID-19 and the devastating August wildfires in the middle of Sonoma County (again) just before harvest. To pick in these extreme conditions and be uneasy that field workers and the winery crew are safe to produce a probably smoky wine that would not meet our standards and core philosophy is not what Soliste is about.
Smoke is the elephant in the room and we need to speak frankly about this. With increasing frequency, Burgundy has hail that shatters their vineyards. Wildfire smoke is our invisible hail. It destroys a crop but seductively keeps the grapes on the vines. Even if not apparent at first, it is known to show up years later after the wine is in the bottle. For us this risk is unpalatable. Like coming home after a night in a smoky club, smoke permeates and clings to your clothes and nostrils like an unwelcome guest. Pinot Noir clusters, with their thin, delicate skins which are the source of the complexity and exotic flavors, smoke is exceptionally damaging. Soliste is known for crafting elegant, deeply nuanced wines that are paired with fine cuisine. Any trace of smoke taint is unacceptable for us. In the last four years, we have endured three wildfires but luckily, they came after our wines were safely in barrel – until this year. We know that for many winemakers this is not an easy decision. For Don and I, the choice is simple and clear; sadly there will be no 2020 Harvest at Soliste.
So we focus now on the future. We look forward to bottling our 2019 vintage next year, and releasing many vintages from our cellar for years to come – these pleasurable moments still await us and sustain us.
There is another ancestral Burgundian way that we have nurtured at Soliste; the old winemakers in Burgundy never completely sold their vintages. They always held on to a significant amount of wine from each vintage. The decision was made because they knew or lived through a bad harvest, hail, wars, or a family feud; it was their reserve for a rainy day, so they would have wines to release in an off-year. We have, from day one, put wines away in our library cellar, just for that reason, and to hold for our restaurant partners. We are proud to share with you 3 of the most defining wines that we make at Soliste, and still at wholesale restaurant pricing. 2014 St Andelain, inspired by the great Didier Dagueneau, 2013 Forêt MonoClone Pinot Noir (the wine that won Pigs and Pinot smackdown), and 2012 Out of the Shadows Syrah (The Cote Rotie of the West, 3 years in barrique).
Soliste is our therapeutic Domaine. We know that with every bottle, we share our joy, memories, laughter, and yes, at times tears. Wine for us is the great connector of people. The dinner table is how we meet, embrace, share our lives with strangers and friends, from all religions, races, nationalities, creeds, and orientations. The table and our wines are agnostic and therefore it has no barriers and no judging, it is truly a beautiful thing. We can't wait to join you again one day around that table.
We are all looking forward to 2021.

Fall Library Cellar Release
Thanks to your overwhelming support, we have sold out of much of the wines offered earlier this year. We will continue to dig deeper into other restaurant allocations for you as we await the return of restaurant dining. Our families remain eternally grateful for your heartfelt words of encouragement, and especially for forwarding our newsletter to your friends, whom we warmly welcome into the Soliste family.
St

Andelain Sauvignon Blanc

2014




Born from a single organically-farmed vineyard, the grapes were partially destemmed and allowed 36 hours of skin contact to create unique richness and depth. After pressing we barrel fermented and aged for 16 months in Didier's creation, the Cigar Barrel. Served side by side with Pur Sang at Le Bernardin, it is our most compelling wine




$28

Forêt MonoClone Pinot Noir

2013
Our single vineyard, single clone, and single French cooperage wine from a vineyard deep in a beautiful redwood forest from a benchmark vintage. The depth of aromatics and spice in Forêt is a pure reflection of this truly unique vineyard's site, slope, climate, and clone.




$35

Out of the Shadows Syrah

2012


This Syrah is a muscular, powerful wine with trademark Soliste elegance, length, and balance. It has the finesse of a great Côte Rôtie or Hermitage but the animal power of a Cornas. Be sure to read the story of our trip to meet with one of the masters of Syrah, Marcel Guigal, in his cellar.




$31

For orders of six bottles or more of any of our wines, shipping will be complimentary. Please visit store.soliste.com/wines to order, or contact don@soliste.com / 707-955-3005 for assistance. While warm weather is great to enjoy the wines we have selected, it is not so great for shipping wine – we'll do our part to get your wine to your cellar safely.
On behalf of our families, please stay safe, stay healthy, and take care of one another in your neighborhoods. We can get through this when we show each other support, empathy, discipline, generosity, and the amazing resilient American spirit. It takes a village.
À Votre Santé,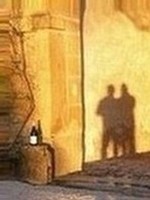 Sorry - Out of the Shadows 2012 is Sold Out!
Use "WholesaleWhite" for restaurant-direct pricing