2015 Grands Charmes Pinot Noir
Wine Specs
Aging
20 Months, 30% New French Oak

The Rare Release
ONE Single Barrel
Uniquely Crafted MonoClone® Pinot Noir

From the first vintage, Soliste's quest has always been (and will always remain) to craft extraordinary Pinot Noirs that will be part of the conversation of the great Burgundies that have been created by centuries of commitment from the Cistercian monks of Vougeot. At Soliste, we deeply believe that these traditions, discipline, and uncompromising methods are the foundation and structure that drive us to produce such wines. We also believe that it is best to let others, not us, talk about the wines of Soliste, especially when it comes from voices that are deeply in love with great wines.
Master Sommelier Andy Myers is the wine director for José Andrés' ThinkFoodGroup, including nationwide locations of Jaleo and other José Andrés restaurants. In his interview for Wine Spectator's, "Sommelier Roundtable: New World Alternatives for Old World Palates" Andy stated:
"I'd send the Burgundy folks to Claude Koeberle and his stunning Soliste range of [Sonoma] Pinot Noirs. Pound for pound, these are some of the best Pinot Noirs in the world. I don't like tossing "Burgundian" around when talking about New World wines, so I will just say that these show a magnificent marriage between form and function."
It reminds us why we make wine. Great wines are the social connector that when shared at the table with friends and family, create lasting memories. Wines are agnostic, they facilitate a civilized platform for conversation and many happy and joyful moments that we must admit, we could use in today's world. When we hear from you about a bottle of Soliste being shared with your friends our hearts swell with pride and satisfaction that our adventure is touching lives around the dinner table.
2015 GRANDS CHARMES MonoClone Pinot Noir, Sonoma Coast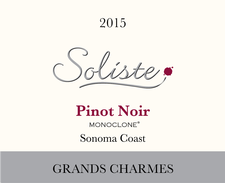 Le Regard / The Look
Intense depth of red cherry coulis and crimson gemstone, showing weight, density, and structure. The robe is the most Burgundian we have experienced.
Le Nez / The Nose
After a quick decant, the pure bouquet is of Burgundian pedigree; precise aromas displaying a kaleidoscope of red tart cherries, blueberries, blackberries, layered with inky graphite, violets, and the ever-present vanilla fat. As the wine develops in the glass, the aromatics become more earthy and floral with dusty dried rose petals, wet stone, and cocoa nibs. A lingering aroma of cedar, black tea must with forest floor leaves on a foggy morning magnifies the depth and structure of the wine.
Degustation / The Taste
The front palate delivers an impressive variety of floral and spice that add a sense of elegance to the muscular concentration of cherry compote, blackberries, blueberries, and dark and red plums, chewy in the gums but silky on the palate. Rich, concentrated with a precise tannin grip from the 75% Whole Cluster press which accentuates the dry herbs and spices layered with infused red and blue fruit concentration - Grands Charmes 2015 is one for the ages. The mid-palate is very broad, dense, and flattering, it is a towering statuesque wine that completely saturates the palate in all directions seemingly at the same time. As the wine opens up, the palate becomes more old school Burgundy, with grippy dark fruit compote infused by espresso, cocoa nibs, roasted meat drippings, mint, charred porcini, and black pepper. The finish is of powerful elegance, a crescendo made possible by elaborate and complex layers tightly weaved to create an exotic length that remains firmly structured. It is extraordinarily persistent in its depth and poise. Richebourg 2015.
Richebourg West…….The Paradox.
| | |
| --- | --- |
| 13.6% alc. 23 cases produced | Extremely Limited 750ml $100 |
Wine Specs
Aging
20 Months, 30% New French Oak
Wine Profile
Production Notes
75% Whole Cluster
Other Notes
24 Cases Produced