September 2021
NOUVEAU MONDE MonoClone® Pinot Noir
Corton meets Chambolle
A Rare 6-Year Vertical of the Unique Pommard MonoClone
2010 - 2011 - 2012 - 2013 - 2014 – 2015
Plus a Single Barrel MonoClone Set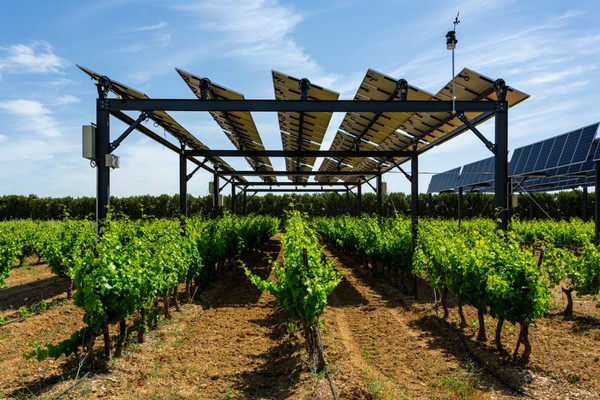 Harvest 2021...Explained
As you may remember, we decided not to pick in 2020 because of Covid-19 and the record-breaking fires in Sonoma County during harvest time. Since then, Don and I have been looking for a silver lining in all of this. One of the great attributes of our friendship and partnership at Soliste is that no matter how challenging times are, we always look at the glass half full (until we drink it, so we can refill it). 2020 has given us time to reflect, not to take things for granted, and rejuvenate ourselves in 2021 for the wines to have a deep connection to our commitment. We both view life as a sunrise, not a sunset, ready to live it fully and with excess, not focusing on the negative but on the beauty of what comes next…2021.
This was last year. Today we are faced with a more difficult decision than in 2020 as we eagerly looked forward to resuming our activities in the vineyard and winery.
The extended drought in the Western United States and extreme heat conditions have made that decision for us. Sonoma County in particular is experiencing a brutal drought leaving the vines dry and parched. Irrigation from the Russian River has been suspended, extreme water conservation measures are in place, some vineyard reservoirs are empty.
We are all forced to make difficult decisions. In this case, short-term gains producing mediocre wines or preserving our culture and the excellence of our wines. At Soliste, we will never, never, compromise the quality of our wines over financial considerations. Period.
Climate Change and the Future of Wine
Let's have a candid conversation about what climate change means for fine wines. For a real-time example, Griffin's Lair Vineyard in Sonoma (no affiliation) decided not to pick their Syrah this year. (Article)
"It really becomes a near-term economic question versus a longevity question," owner John Flynn told The San Francisco Chronicle. He says that the vines would not have managed to ripen fully in their depleted state, and the energy they would have used in the attempt could have impacted the quality of future harvests. "By dropping the fruit, we can improve the retention of carbohydrates into the vines and improve the health for future years," he said.

What makes this all the more stark for growers is the fact that Syrah is a notoriously robust grape variety – the fact that it could not survive this year's adverse conditions is an ominous sign for growers.
You can only imagine if Syrah, which is a very resilient cepage that loves dry heat, cannot thrive in these conditions, then please consider the effects on a delicate grape like Pinot Noir…Devastating is the word.
In the Languedoc/ Roussillon region of France, vignerons are replacing vines (Carignan, Grenache, Syrah, Mourvèdre) with Cactus and Aloe. Yes, you read this correctly. Heat and drought conditions have damaged some vines to a point of no return, and these cépages are known to be extremely resilient. On a positive note, vineyards in France are also successfully testing heat control by placing solar panels over vineyards to create shade and protect from the relentless sun scorching the vines. (Article).
From the heat dome over the usually cool Pacific Northwest raising temperatures to 113F, the now seasonal massive fires from British Columbia to California sharing their smoke as far as the East Coast, to the recent UN Report on Climate Change, the messages are clear and we are taking stock of what this means to the style of wines we enjoy making and drinking.
Speaking of drinking (a much happier subject), from inception, we have always believed in holding 25% to 30% of our wines in our cellar and library. Older Burgundian generations of vignerons did just that as they knew that a bad harvest, a war, a family feud, would arise and so they always had previous vintages to release to maintain continuity. We are privileged to have been able to embrace this idea and it allows us to assemble amazing verticals such as our new release: A 6-Year Vertical of Nouveau Monde MonoClone Pinot Noir. Crafted from a Single Clone of Pommard, these are wines of great elegance, depth, texture floral aromatics, and layers of intense red fruit essence. Verticals are unique and rare as they provide a wonderful conversation piece of contrast within a singular wine to explore the different vintage characteristics. Here I am doing the hard work(!) evaluating the vertical: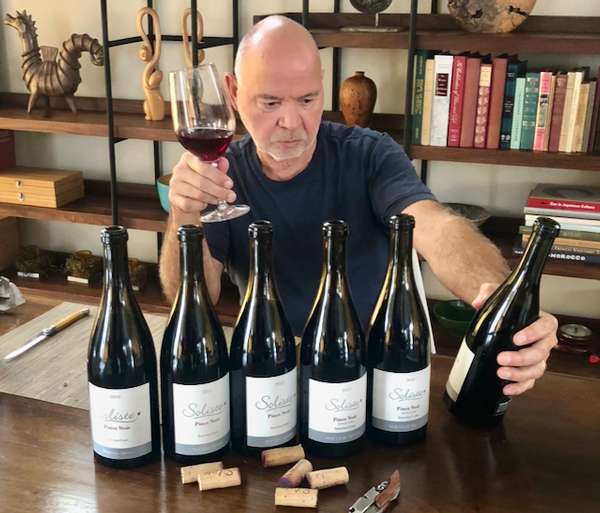 On another bright note, Don recently bottled our exceptional 2019 Vintage. As is our tradition, we will lay down and age for at least the next 3 years, and we look forward to tasting it along its development until ready to be released to our loyal supporters. We also want you to know that we are optimistic/hopeful that we can bottle a few cases of Soleil Rouge Rosé this year. If there's anything that can take our mind off the drought is a chilled bottle of this refreshing wine.
Our promise to you is that the Soliste culture must remain intact; We will overcome another year without harvest, but we need to plant new positive seeds so Soliste can remain what it was always intended to be and do. Soliste is our therapeutic Domaine. We crafted our wines to be the connector of happy souls around the dinner table, and for you, your friends, and family to have a moment of bliss and lasting joyous memories. We also feel a deep responsibility to all of you that have supported Soliste and kept our dream alive.
Above all, we want to share our gratitude with you for your loyal friendship and steadfast support. It means more than ever!
Labor Day 2021

Our September Release
To celebrate the end of Summer we are offering our most unique vertical of Nouveau Monde Pinot Noir along with a very special trio of Single Barrel wines. Since our restaurant partners are beginning their return, with respect for their wine lists we will no longer list wholesale prices on our website. However, we will continue to offer select wines at our special pricing for as long as we can. In addition to this new exclusive release and offer, we will continue to honor the special pricing reserved for our loyal customers on request. Please contact Don to receive restaurant-direct wholesale pricing and availability.
Nouveau Monde MonoClone® 6-Year Vertical
Expect perfection and great pleasure from this incredibly aromatic, exotic, and elegant Pinot Noir. Nouveau Monde is the pure expression of our Philosophy: To focus on a single clone to craft a wine that beautifully marries the virtues of both Volnay and Corton.

​2010 - 2011 - 2012 - 2013 - 2014 - 2015


$540 $240
6 bottles, 1 of each vintage

Only 80 Verticals Available
Sold Out!

Once in a blue moon, we select ONE exceptional barrel that stands out from our unique MonoClone wines:

2014 L'ETERNEL + RARISSIME + ULYSSES MonoClone® Pinot Noir Set
Single Vineyard, Single Clone, ONE barrel…Soliste
As our story goes, the name Soliste comes from the special single barrel the Burgundian vigneron reserves for friends and family. Our single barrel wines represent the promise and journey that is Soliste.

$600
6 bottles, 2 of each

Only 30 Sets
available


$26 $22
each bottle


Thanks to your overwhelming support, we have sold out of most of the wines offered earlier this year. So we are digging deeper into other restaurant allocations for you as we remain eternally grateful for your support, heartfelt words of encouragement, and especially for forwarding our newsletter to your friends, whom we welcome into our Soliste family.
For orders of six bottles or more of any of our wines, shipping will be complimentary. Please visit store.soliste.com/wines to order, or contact don@soliste.com / 707-955-3005 for assistance. In the summer months, we are especially mindful of shipping weather and will protect your wines from our cellar to yours. In California, we use overnight or refrigerated delivery, to FL, IL, TX, MA, PA, NH, NJ, NY, DC we will upgrade to FedEx Cold Chain refrigerated/overnight service to safely deliver your order. We deeply appreciate your business as this is a great help to Soliste as we continue to navigate the next few months without significant restaurant orders.
À Votre Santé,