October 2021

Beauty and the Beast
Vertical Release
Out of the Shadows Syrah: 2013, 2014, 2015
Northern Rhone comes to Sonoma
Forêt MonoClone® Pinot Noir: 2014, 2015, 2016
Winner of the Pigs and Pinot Smackdown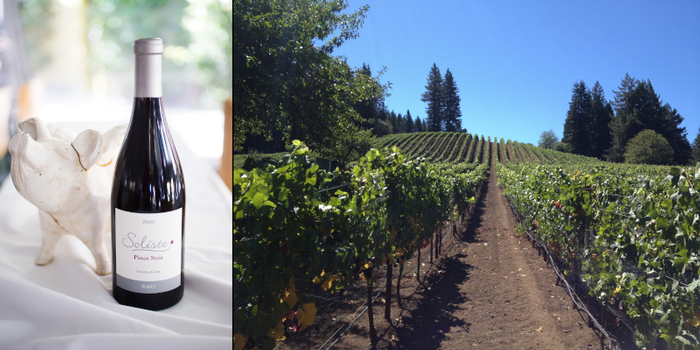 As a chef, Autumn is the magical season that brings us mushrooms, squash, root vegetables, wild game, squab, duck, oxtail, lamb shanks, rabbit, sweetbreads, cheeks, and of course truffles…Alba truffles.
Cooking in October and November requires very little encouragement. This is the time to get Le Creuset and Staub cocottes, Dutch ovens out. The art of braising comes down to us from the earliest days of cooking when ingredients were enclosed in a heavy pot and buried in the hot embers of a dying fire until tender and bathed in a deliciously concentrated sauce. Slow and long braising rustic traditional dishes for hours turn simple cuts of meats into extraordinary and magical culinary dishes. For all countries, braised dishes have defined their regional heritage and have held up to the test of time to still be the centerpiece of menus around the world. To name just a few, Italy has Osso Buco & Sugo; France has Coq au Vin, Beef Bourguignon, Cassoulet, Lamb Daube Provençale, & Blanquette de Veau; India has Vindaloo, Korma, & Biryani; Spain has Chilindron & Chivo Guisado; Mexico has Birria, Barbacoa en Maguey, Carnitas, & Pollo en Mole Poblano, just to name a few (hungry yet?). Braising and slow cooking is therapeutic because you cannot be in a rush and once the dish is in the oven for 5 to 7 hours you have very little to do other than wait for the alchemy to work its magic, converting your chosen cuts of meat or poultry and integrating with aromatics, wine, herbs, vegetables, and spices into a glorious confit of intense, succulent flavors mingled with now fork-tender piece de resistance.
This metamorphosis from a rustic beasty ingredient to an elevated complex beautiful dish is extraordinary just like the prehistoric crawling caterpillar becomes a remarkable winged colorful elegant butterfly.
Et Voila! The Beast has evolved and Beauty is revealed.
These dishes are the perfect pairing for deep red wines; wines of great concentration and focus, spices, but with the finesse associated with Soliste. It is the perfect symbiosis between the dish and the wine, not to overpower but to accompany. Don and I have chosen these Syrah and Pinot Noir to create two verticals from our cellar library. They are the perfect expression of each cépage and will adorn and compliment your table this fall and winter. Since it takes quite some time to braise these marvelous dishes, you will have plenty of time to enjoy a glass or two (as we do) while the oven is doing its duty and you and your friends are held captive. Braising is the true "Slow Food Movement."
Out of The Shadows Syrah is a muscular, powerful wine with trademark Soliste elegance, length, and balance. It has the finesse of a great Côte Rôtie or Hermitage but the animal power of a Cornas. It also has the ability to age for decades.
Forêt MonoClone Pinot Noir is an exceptional wine of great nobility that has been heralded by critics and sommeliers for its depth, complexity, power, gaminess, and exotic spices…Le Chambertin West.
Forgive the length of our newsletter this month, but in keeping with the change of season and the luxury of time by the fire to read, we have two stories about these wines we would like to share with you:
Out of the Shadows: Beauty and the Beast
Rooted in Northern Rhone, Harvested in Sonoma
When Don & I visited the Northern Rhone in the cold winter of 2008 we tasted memorable Syrahs from the masters at la fête de la Côte Rôtie in Ampuis. Escorted by our friend and talented chef-owner of La Folie in San Francisco, Roland Passot, the afternoon became surreal when we were invited to Monsieur Guigal's private cellar for a degustation we will not soon forget. It lasted hours but felt like just minutes.
Monsieur Guigal became a generous educator that day unveiling decades of wine making details and secrets to us; It was an epiphany and we certainly got a lesson on Syrah from masters of their craft, refining this superb cépage into powerful but elegant wines since Roman times. We took it all in and once back home went on our Soliste quest to seek an outstanding vineyard that would match what we had seen and learned in Ampuis. Our tenacious nature rewarded us when we came upon a stunning Syrah vineyard in Bennett Valley. Our first release of the 2008 vintage was an instant success aided by our commitment to age this superb Syrah for more than 22 months in barriques in the tradition of the Northern Rhone masters.
Out of the Shadows comes from a sliver of a vineyard in the Bennett Valley hills. The site has a western exposure, gravelly soil, and sits on the side of a small mountain. This provides excellent drainage, even sun exposure, and a cool climate. The vineyard has a breathtaking view of the Santa Rosa plain and is meticulously farmed.
Ultimate Sommelier Smackdown
16 Pinots – 4 Master Sommeliers – 1 Winner
Soliste 2010 Forêt, Sonoma Coast
An unexpected recognition

Pigs and Pinot – There is no better pairing! Charlie Palmer's celebration of Pinot Noir and all things Pork has become an iconic event on the Pinot calendar. This year Master Sommelier (and 2014 Smackdown King) Keith Goldston selected 2010 Soliste Forêt to be included in the "Ultimate Sommelier Smackdown." Four Master Sommeliers each present four Pinot Noirs (16 in all) to be evaluated against each other in a shall we say, French debate style. No wonder Claude enjoyed it so much. Pairs of Pinots were brought together and the sommelier defended their choice (or spoke poorly of their competition and the pedigree of the other sommelier, you get the idea…smackdown!). A tent of 100 enthusiastic pinot lovers raised their hands to select their favorite. Four rounds later, Soliste Forêt stood alone, the winner of the 2014 Sommelier Smackdown.
In the final round, scores of people held out empty glasses, asking for more Forêt – it was amazing! At that point, our dream was realized regardless of outcome. We have always said the best way to determine the best wine is to look for the empty glass. The pinot-lovers voted with their palate and that ultimately is what really matters to us. The Flying Pig trophy held by our talented winemaker Ryan Zepaltas made a perfect centerpiece for our festive family celebration dinner late into the night.
Forêt represents everything we believe can arise from our commitment to Single Vineyard, Single Clone, and Single Cooperage (MonoClone®) wines. Why have we accepted this unknown risk to make MonoClone Pinots? It simply comes from our fascination for great red Burgundies. These amazing wines all have very different aromatics and complexities within just a few kilometers: Volnay is very different from Gevrey, Chambolle, Pommard, Vosne, Vougeot, Corton…So we decided to identify a Single Clone, married with a specific site, climate and exposure and then, to age individually in their respective single cooperage (barrels). Forêt is absolutely unique, stand alone, and we did not think in our wildest dreams that it would be possible to craft a Pinot Noir in California of such depth, spice and earthiness. Forêt is indeed ready now, but it will age for many years as the structure of this magnificent wine is timeless.
Forêt brings Claude back to his home in Bourgogne from a very unlikely place in the Sonoma fog where we began together the journey that is Soliste.

To Autumn!
To welcome Autumn and luxury of time with friends in the kitchen we offer the Beauty and the Beast Vertical Release: 1 bottle each of 2013-2014-2015 Out of the Shadows Syrah and 2014-2015-2016 Forêt MonoClone® Pinot Noir. Since our restaurant partners are beginning their return, with respect for their wine lists we will no longer list wholesale prices on our website. However, we will continue to offer select wines at our special pricing for as long as we can. In addition to this new exclusive release and offer, we will continue to honor the special pricing reserved for our loyal customers on request. You may use discount codes "Narcisse" and "WholesaleWhite" for example or contact Don to continue to receive restaurant-direct wholesale pricing and availability.

$480 $198
1 bottle each (6 total)

You may also add individual wines from this release to your order at wholesale pricing

$31 and $35 each

La Sauvage Syrah 2010 and 2012

If you love the stunning Syrah's of the Norhern Rhone as we do, here's an exceptionally rare treat from deep in our cellar:

La Sauvage, like our other exclusive single-barrel wines, is made only in vintages that we believe are exceptional. We did not select one in 2009, nor in 2011.

In 2010 and again in 2012, we singled out a unique barrique with the purest aromas and structure. The wine was aged for 45 months (nearly four years) until the Beast was tamed. La Sauvage is extraordinary in complexity and depth; a great paradox of muscular aromas and silky texture. Only 348 (2012) and 588 (2010) Bottles were made, and we held back some just for this occasion.

2010 La Sauvage, 84 bottles available

2012 La Sauvage, 30 bottles available




$125 each
Thanks to your overwhelming support, we have sold out of most of the wines offered earlier this year. So we are digging deeper into other restaurant allocations for you as we remain eternally grateful for your support, heartfelt words of encouragement, and especially for forwarding our newsletter to your friends, whom we welcome into our Soliste family.
For orders of six bottles or more of any of our wines, shipping will be complimentary. Please visit store.soliste.com/wines to order, or contact don@soliste.com / 707-955-3005 for assistance. We will collect orders for approximately two weeks, fulfill any special requests, then ship as weather permits.
Thank you again for your support and for joining us on this journey.
À Votre Santé,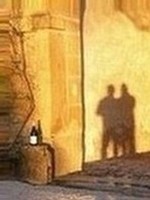 Sorry - this Vertical is no longer available, please inquire.
Use "WholesalePN" for restaurant-direct pricing
Use "WholesalePN" for restaurant-direct pricing
Use "WholesalePN" for restaurant-direct pricing
Use "Shadows" for restaurant-direct pricing
Use "Shadows" for restaurant-direct pricing
Use "Shadows" for restaurant-direct pricing