2018 Grands Charmes Pinot Noir
Wine Specs
Aging
16 Months, 100% New French Oak Cigar Barrel

One Barrel, Never Again to be Produced
2018 GRANDS CHARMES
Uniquely Crafted MonoClone® Pinot Noir - Cigar Barrel - Clos des Lambrays West

From the first vintage, Soliste's quest has always been (and will always remain) to craft extraordinary Pinot Noirs that will be part of the conversation of the great Burgundies that have been created by centuries of commitment from the Cistercian monks of Vougeot. At Soliste, we deeply believe that these traditions, discipline, and uncompromising methods are the foundation and structure that drive us to produce such wines. We also believe that it is best to let others, not us, talk about the wines of Soliste, especially when it comes from voices that are deeply in love with great wines.
Master Sommelier Andy Myers is the former wine director for José Andrés' ThinkFoodGroup, including nationwide locations of Jaleo and other José Andrés restaurants. In an interview for Wine Spectator's, "Sommelier Roundtable: New World Alternatives for Old World Palates" Andy stated:
"I'd send the Burgundy folks to Claude Koeberle and his stunning Soliste range of [Sonoma] Pinot Noirs. Pound for pound, these are some of the best Pinot Noirs in the world. I don't like tossing "Burgundian" around when talking about New World wines, so I will just say that these show a magnificent marriage between form and function."
It reminds us why we make wine. Great wines are the social connector that when shared at the table with friends and family, create lasting memories. Wines are agnostic, they facilitate a civilized platform for conversation and many happy and joyful moments that we must admit, we could use in today's world. When we hear from you about a bottle of Soliste being shared with your friends our hearts swell with pride and satisfaction that our adventure is touching lives around the dinner table.
Only two previous vintages of this single barrel wine were bottled, 2014 and 2015. Then we paused until 2018 as we felt that this would be the vintage that would capture the ultimate excellence of this remarkable wine. The 2018 Grands Charmes is so exceptional that we decided that it will be the last to be produced. Always best to go out on top and leave a benchmark to speak for itself.
We bottled this unicorn on March 2020 at the onset of the pandemic. For Soliste it is a bit of a survival Time Capsule from a defining moment in history. Out of a dark period came a magical elixir of hope in a glass.
2018 GRANDS CHARMES MonoClone Pinot Noir, Sonoma Coast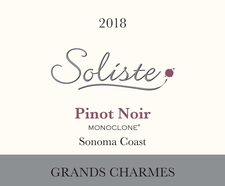 Le Regard / The Look
Deep garnet gemlike clarity in the glass with extreme density and texture from the whole cluster press. Long Legs showing an unctuous mouth feel.
Le Nez / The Nose
The bouquet is sauvage, earthy, with captivating aromas of cherry liquor, raspberry, soy sauce, and porcini. The secondary nose is herbaceous, with complex spice layers; musty and earthy at the onset, then emerging are scents of rose petals, dried maple leaves, and wild game. Very sensuous nose.
Degustation / The Taste
The front palate delivers a study in red fruit; raspberries, wild strawberry rhubarb compote, and pomegranate, all tightly woven with exotic spices, violets, licorice, and burnt orange rind. This is a wine of great verve and energy showcasing refined tannins tamed in the cigar barrel. The mid-palate is generous and silky, red tart cherries and red currants are layered with black tea must, bitter caramel, anise, and a touch of sandalwood. As the wine evolves, the wine becomes less assertive and gains in roundness, and elongates in the mouth, pure pleasure. The finish is well-balanced with fine tannins and very well-judged acidity. This feels very harmonious with more energy and tension, structured with a bright and vivacious finish that lingers long in the mouth.
This wine is in a class of its own and will also age with panache.
Clos des Lambrays West...
| | |
| --- | --- |
| 13.4% alc. 25 cases produced | Extremely Limited 750ml $125 |
Wine Specs
Aging
16 Months, 100% New French Oak Cigar Barrel
Wine Profile
Production Notes
50% Whole Cluster
Other Notes
25 Cases Produced